Why buy a new bike and spend a lot of money when there is a great selection of used bicycles available online? There are countless internet platforms where bikes can be bought and sold. Nevertheless, you should be careful as there is always the risk of getting scammed on the internet, which can cause problems for you.
We summed up the most important things you need to consider when buying a second hand bike!
Checklist for a safe online purchase
1⃣ Is the online platform trustworthy?
Read up on blog posts and user opinions. On some platforms you can find old offers that are meant to attract potential customers. You should be especially careful when using websites where you have to pay to register.
2⃣ Does the offered bike match the usual prices for this category?
If a bike is sold far under its worth, this is suspicious and could be a sign that it has been stolen from someone. Making comparisons to market prices is always a good idea and can help when negotiating with the vendor.
3⃣ Is the vendor trustworthy?
Check his or her reviews and try to find out if they are real. Keep in mind that one can buy reviews online. Read existing reviews carefully and check if they are authentic. Try to check if you can find the vendor on other internet pages.
4⃣ Look out for buyer protection!
During your purchase transaction, look out for buyer protection or accountability so that you can get your money back in case of doubt about the vendor (e.g. PayPal). This way, you can at least get part of your money back in case of fraud. This is recommended especially when purchasing expensive second hand bikes.
Tip: Model contracts that help you to regulate your purchase can be found all over the internet.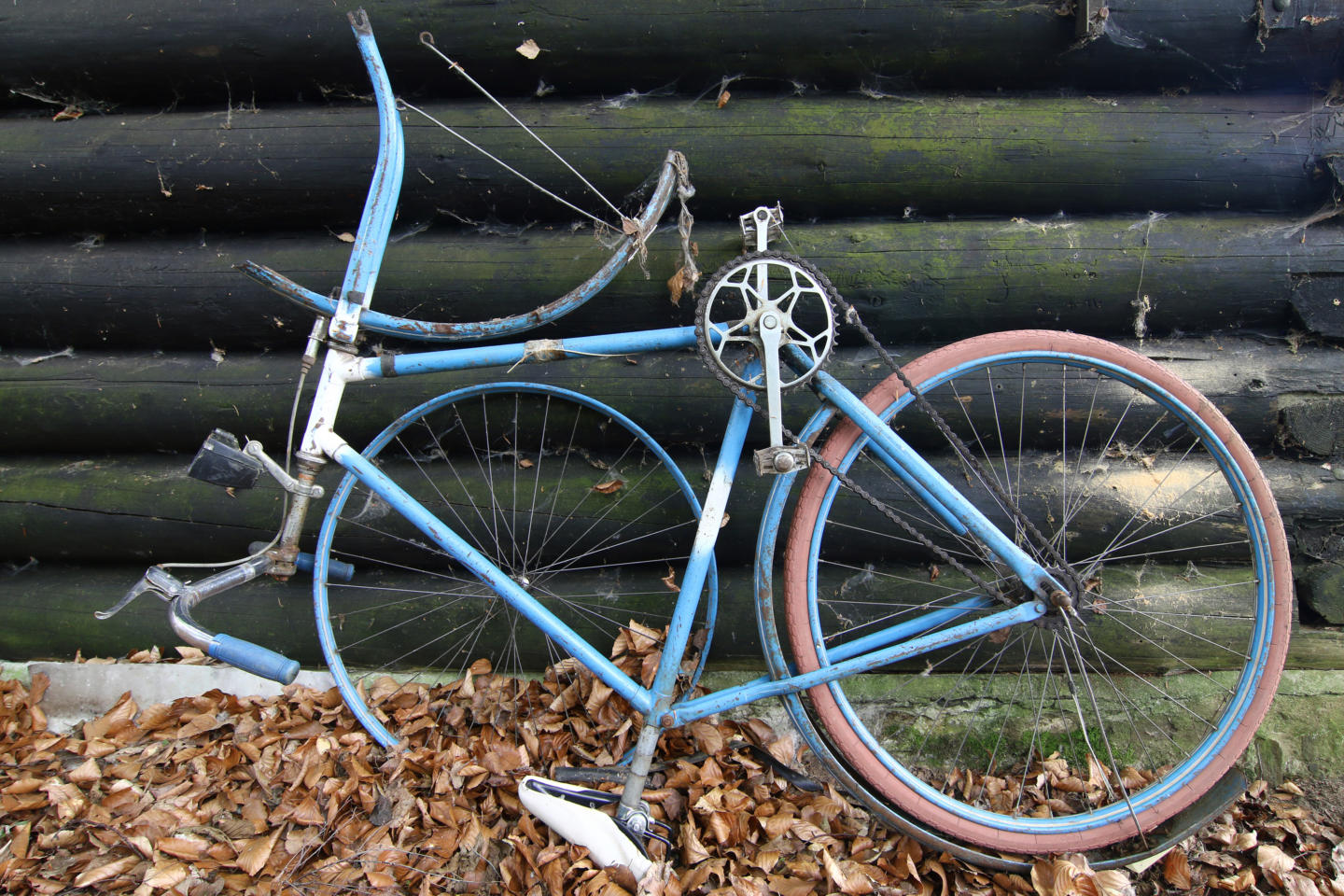 Technical check
To make sure the bike you are about to buy does not end up looking like the one in the image above after a few rides, check the technical condition carefully. The best method is of course doing a live check before actually buying a bike. If this isn't possible, ask for detailed pictures to be clear about the condition of the offered bike to make sure your new ride makes cycling with Bikemap enjoyable.
Before buying, consider the following aspects which can also influence the price:
🚲 Condition of the frame

Are there dents or maybe even cracks? Rust at the welding seams is a sign that the frame is not in a good condition.
🚲 Tires and impellers
Are they dry, fissured or porous? They are easily exchanged, but this is an extra cost that falls on you. Ask for a video to check if the impellers run smoothly.
🚲 Cable pulls
Are the cable pulls rusty or frayed?
🚲 Bike gears
What condition are they in? Is the transmission bent or rusty? This could translate into an additional service which costs you money.
Have you ever bought a used bike? 
Share your experience in the comments with us!
Latest posts by Hannah Jachim
(see all)