Long nights, short days – fall is here. However, this is no reason to renounce cycling! We have compiled the best tips to make sure you're safe when you're out cycling in the dark.
See and be seen 
A car driver gets about 90% of all the information he needs for driving from his eyes. Darkness and tiredness lower your ability to concentrate and the changes between different lighting conditions decreases your reactivity. If you're out on your bike wearing dark clothes without reflectors, a car driver will only be able to notice you out of a distance of 30 meters. If you wear reflective clothes and use a good bike light, you can be seen from up to 150 meters away.
Reflectors on your bike are required
While they aren't as necessary in sunny conditions, reflectors can save lives during dark conditions with poor visibility. Your country has a set of laws regulating which and how many lights you need to put on your bike. In Australia and the US, the laws regarding bike lights vary depending on the state. In the UK, you need a white front light facing upwards, a red rear lamp, a red rear reflector as well as amber coloured pedal reflectors. In New Zealand, you need a red or yellow rear reflector for cycling during the day. Once it's dark outside, you also need one or more steady or flashing red rear lights, at least one white or yellow headlight and pedal reflectors. If you don't have any pedal reflectors, you must wear reflective clothes.
Tip: You can always use reflective adhesive to be more visible to others. Furthermore, use reflective spoke sticks or tires with reflective lateral surfaces.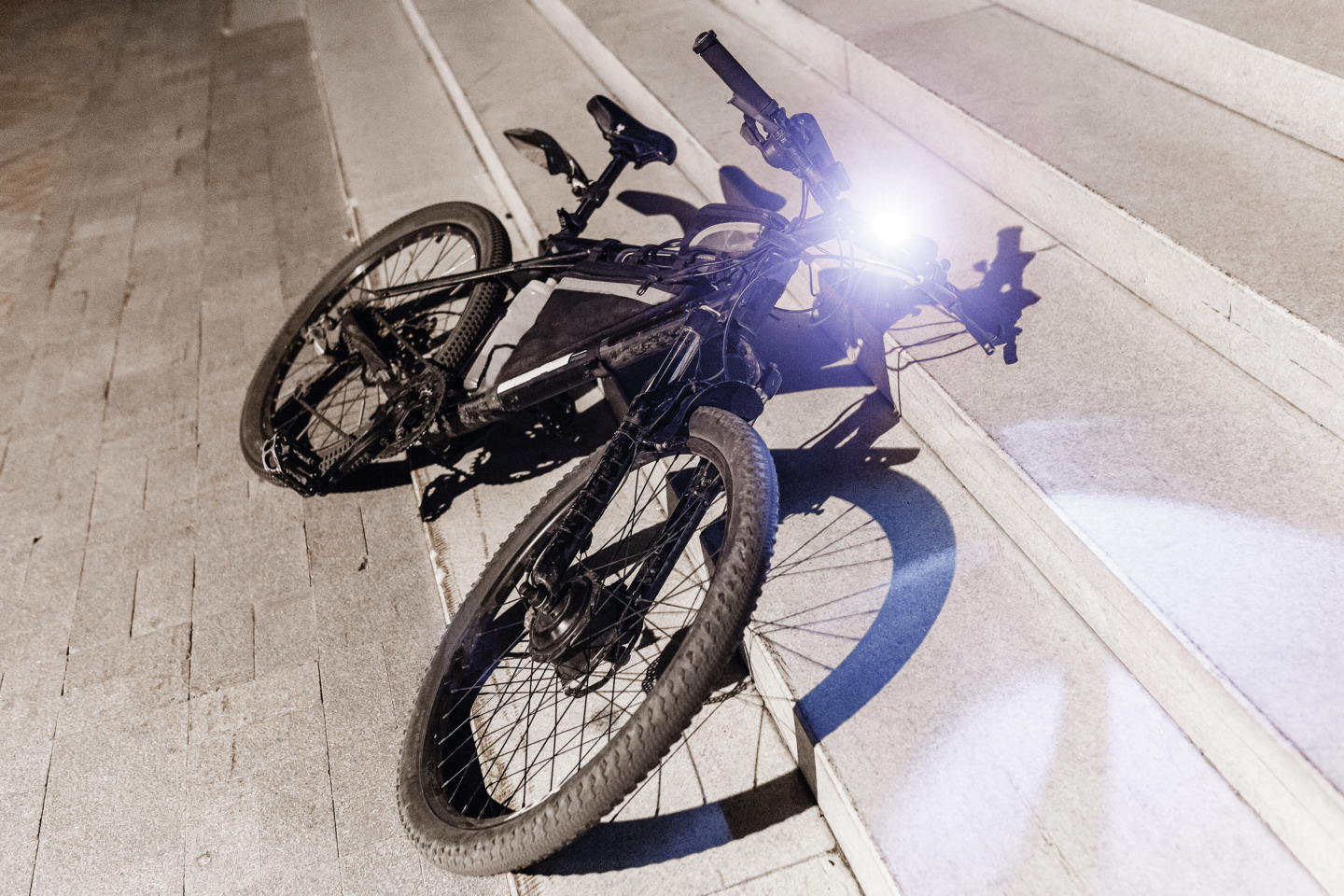 The right clothes
In general, avoid dark clothes as they make it very difficult for other road users to notice you. Contrasting and especially reflective clothes make you more visible. Many variations of such clothes are available to buy, more importantly, there are highly functional pieces of clothing e.g. reversible jackets that look like a normal jacket until you flip them over to their other side, which is bright and full of reflectors. Another simple and cheap option is the use of safety vests like those you can find in cars. They increase your safety many times over!
Tip: Some bike helmets come with in-built lights that work like additional sources of light and make you more visible. Attention: head lamps aren't a legally recognized substitute for bike lights.
Tips for cycling in the dark
🚲 Stick to the legally required number and size of reflectors on your bike.
🚲 LED-lights don't need a lot of energy, provide high luminosity and can ideally be charged with a USB plug.
🚲 Reflective clothes greatly improve your visibility and can even look very chic thanks to functional designs.
🚲 Additional reflectors such as tapes for your legs or your helmet, adhesive tapes or functional accessories like reflective backpacks or saddles further improve your visibility.
🚲 When buying reflective gear, make sure that your products' quality is tested and certified.
Do you have more tips for improving your visibility in the dark? 🔦
Let us know in the comments! 🚴🏻
Latest posts by Hannah Jachim
(see all)
Similar articles you will like