Bike lover Amanda Wilks of Mountain Bike Reviewed has a vast knowledge has a vast knowledge about mountain biking and can give you advice on how to restore an old mountain bike, how to enjoy an epic mountain bike adventure at night and more. For the Bikemap Blog, the expert has written a beginner's guide to mountain biking – read her amazing tips on how to get started here!
The thrill of tackling wild downhill rides or rugged mountain climbs can be almost as intimidating as finding one's way into mountain biking in first place. After all, a sport with a reputation for being the more grueling cousin of road cycling must seem many times harder to adapt to, yet that's not necessarily the case.
Gearing up for an afternoon on the trail can be a fairly quick and easy trip to a local bike shop, but taking a moment to really learn about what to expect out of your first trip can keep you coming back for more.
Temper Your Expectations
First of all, don't try to dive in without doing a smidgen of preparation before you take off for the local hills. Setting your expectations for your first few rides before you even purchase a bike can save you from disappointment later on. Chances are that your first few outings are going to include a few small spills, a touch of dehydration and waking up very sore the day after you get back home and tuck in for the evening.
Unless you already are a champion bike rider and just happen to be transitioning to dirt, you might want to start off with a cardio-based exercise routine while you assemble your riding gear, but it's certainly not required. You can do just as well with the cardio you'll get on the bike, yet you may prefer to build up a bit of stamina through jogging or swimming before taking the plunge.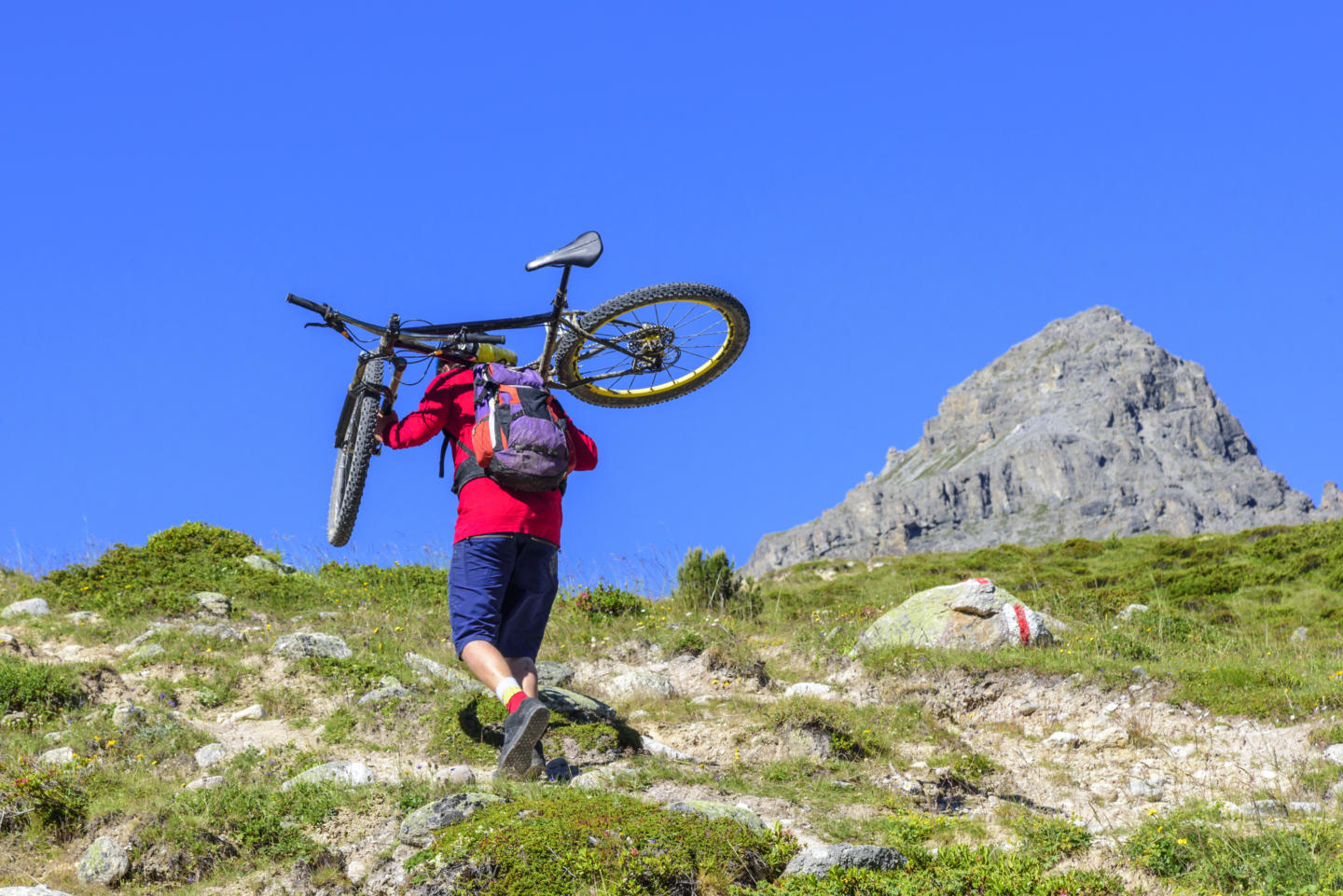 Find the Right Bike
The bike you ride will double down those expectations and choosing one that fits what you intend to ride on will make a world of difference. Various types of mountain bikes are available and the initial selection can seem daunting, but try not to worry. Unless you purchase a bike meant exclusively for downhill sprints that is too heavy to easily take up mountainsides, chances are any bike you purchase as your first will do the job of acclimating you to the sport just fine.
For beginners, a cross-country or enduro bike is perfectly suited to most trails with a lower difficulty rating. If you plan to take it through lightly wooded paths and just soak in nature, good news: You'll be able to tackle those sorts of trails without a hiccup as long as you watch out for sudden potholes and jutting roots.
Load Up for the Trails Ahead
With a bike at the ready, you can just hop on it and pedal away, right? Not so fast. Taking off for the trail without packing a few essentials can leave you hungry, dehydrated or even stranded in case of a flat, so proper preparation is key. Make sure to stay hydrated at all times and take some fruits, oats, nuts and energy bars with you.
You probably won't need an entire first aid kid and emergency flares, but there are a handful of helpful gadgets you should definitely bring with you. A helmet is absolutely mandatory – everything else is up to you. A GPS-capable phone is a good option, perhaps with a GPS computer backup, along with a spare tube to fix a flat, tools to accomplish that swap and enough food and water to get you back home in one piece.
If you're especially concerned, you can always take a few wilderness readiness courses that might help you stay in-tune with your trails well enough to get on in case of a very serious emergency, but chances are your first few rides doesn't take you anywhere near that dangerous. If you're worried about losing your phone signal whilst riding through the woods, opting for Bikemap Premium might soothe your mind – just download a map of the region you're riding through before setting off to always have a map with you even without data connection.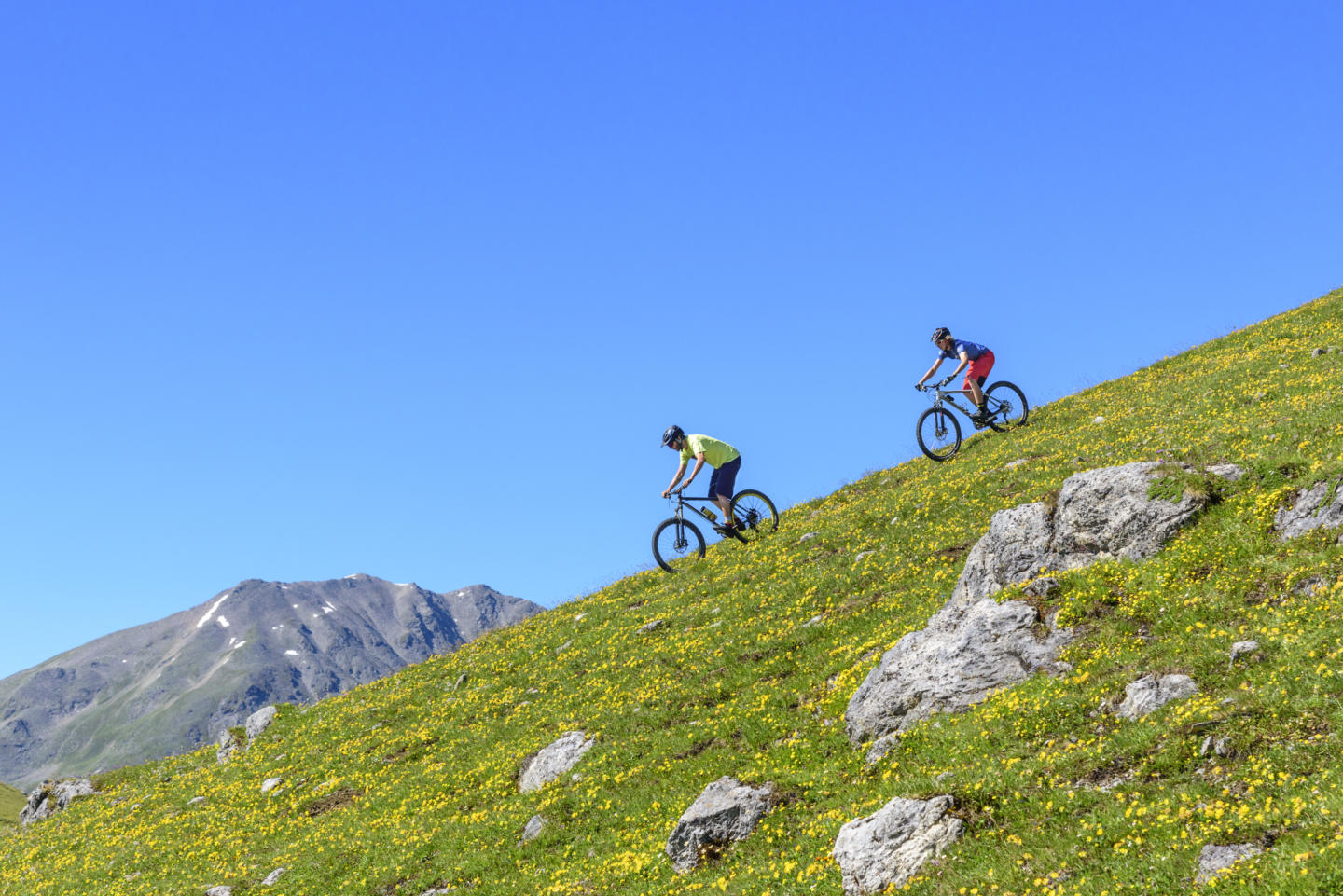 Keep Pushing Yourself
With gear and bike, it's finally time to properly tackle the trails. Either head for your closest beginner-friendly trail, take a spin around your neighborhood or research mountain biking enthusiasts in your local area. Chances are there's at least one group of dedicated riders who are local and friendly to newcomers, which can turn your time spent on your bike into a wonderful social activity. There's safety in numbers as well, ensuring you'll have backup in case your first rides aren't absolutely stellar.
From there, how you choose to pursue the hobby is up to you. If you're interested in the competitive angle of biking, you might want to find a targeted exercise routine to build strength and stamina while slowly tackling trails of increasing difficulty. On the other hand, those who appreciate the social angle may want to hone their skills until they feel comfortable enough to take friends and family out for a spin. If there is a better way to bond with friends and family than away from civilization and electronic distractions, it's probably not been discovered yet. Looking for inspiration for your next ride or looking for family-friendly routes? Check out the region pages on Bikemap to discover amazing routes in your area!
Just Go For It
Don't let the fear of approaching a new hobby scare you off of your saddle before you've bought a bike in the first place. Mountain biking is accessible and easy to get into for those with an interest, requiring little more than a stretch of dirt, a bike, a helmet and a pair of legs to get you to where you'd like to go.
Are you ready for your first MTB tour? 🚵🏻
Share your experience with us in the comments! 💪🏻
Latest posts by Hannah Jachim
(see all)