Bikemap users Matteo Colizzi and Giovanni Andrea Panebianco have embarked on many epic bike trips together.
In 2015, they cycled through the stark, windy mountains of Ladakh and Kashmir and came back to Italy with their saddlebags full of experiences, stories and stunning photographs. We asked them to share some of their knowledge about the spectacular route they took across the Himalayan pass.
Land of the high passes in numbers:
Length: 920 kilometers
Ascents and descents: 16.000 m
Altitude: 3.000 to 5.000 m
There are many long ascents in the "the land of the high passes". The inclines are not extremely high (7%) but the lack of oxygen makes them difficult. We found it helpful to split the climb in two stages.
In desperate times you can always ask for a ride on trucks!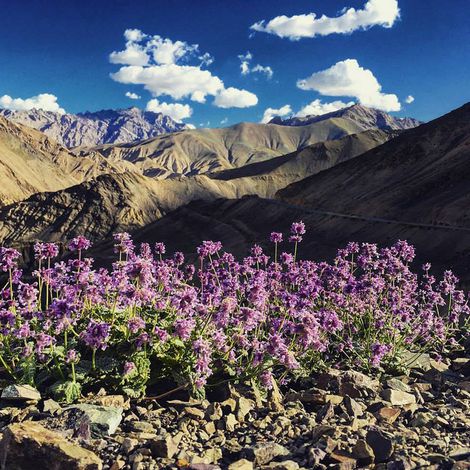 A mountainous ride – Little Tibet
In the far north of India lies the Himalayan region of Ladakh, also known as "Little Tibet". The route starts in Srinagar among the green valleys of Kashmir and goes on to overcome high passes above 5.000 meters in a spectacular mountain landscape. We arrived in the hippy town of Manali in Himachal Pradesh. Passing through places populated by the last nomadic tribes, Buddhist and Tibetan temples, and high perched villages and monasteries that seem born from the rocks they cling to.
Where to watch out
We found the road was well signposted. The first 424 kilometers took us from Srinagar to Leh, the capital of Ladakh. On the next stretch, 475 km from Leh to Manali, was more desolate and at a higher altitude, including the 5.360 m of Tanglang La.
For a good part, the road was dirt (half tarmac) which lends itself to landslides, but we were fortunate. The ascents to Zoji La and Baricha La were especially treacherous. We also encountered bad road surface on the last kilometers of the Khardung La, at the beginning of Rothang Pass and after Pang.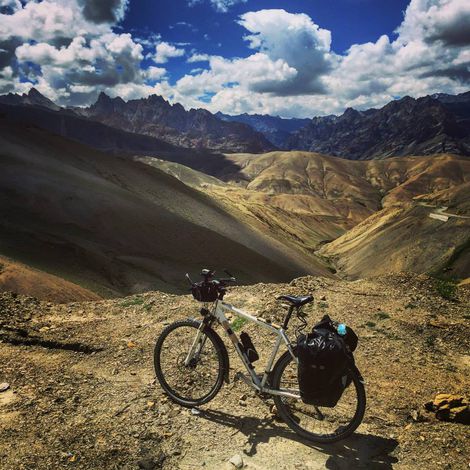 Traffic & People – Bikes are a curiosity
On the whole, motorized traffic is not heavy, it is as busy as any secondary mountain road in Italy. The traffic along the Srinagar-Leh-Manali road is high only in the vicinity of these three cities. Columns of trucks are a bother if you encounter them while going uphill. Usually you'll see tour buses, taxis and all sorts of trucks – very few bicycles!
We were an attraction wherever we went.
There was a crowd of people whenever we stopped, wanting to know everything about the bikes, the trip and us. People were very helpful and kind. Along the first part, we met Kashmiri Muslims, and later many Tibetan Buddhists in Ladakh. Though it's a poor country we did not see the extreme poverty associated with India or any begging.
Food & Shelter – Where to go and what to avoid
Finding water, food and shelter was no problem. There is a large number of camps and "parachute cafes" where you can sleep without booking ahead. There is always room, between one place and the other the average distance is about 30 to 40 km. In Leh-Manali you can sleep in spartan shared tents, but there are also more luxurious camps if you are willing to pay extra.
We brought a stove and a tent but never even used it!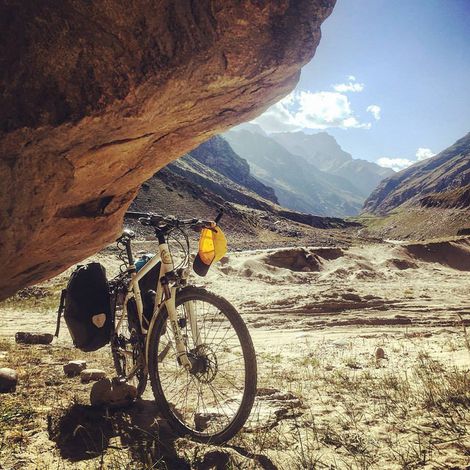 Safety – Checkpoints
Traveling was very safe. There is a large military presence, especially in Kashmir, but the checkpoints are in no way obstructive. The officers were very polite and gave us water and advice.
Obviously you want to take care on the steep roads – take frequent breaks when you get exhausted!
On our trip we did two of eight on this list of dangerous roads around the world. What the article does not mention is how stunning they are!
Let's talk about the weather!
The weather in August was mild even on a rainy day, almost perfect temperature. A little hot under the 3.500 m mark, cooler beyond that but never cold. We did encounter a little snow on top of the Tanglang pass and a sprinkling on Baricha La! This meant we could finally wear our long cycling gear. Temperatures cool down at night but the Indian blankets keep you warm inside your tent.
The wind is not particularly strong, so didn't play a huge role in our trip.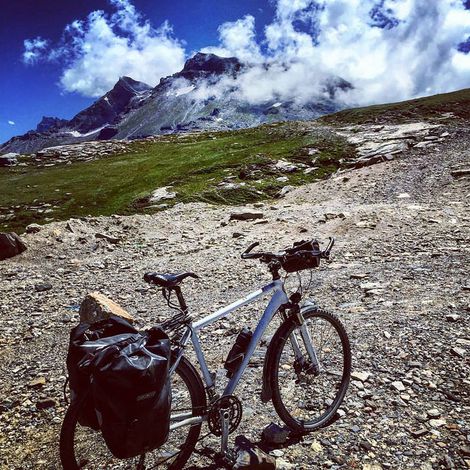 Altitude – Be prepared!
We countered our altitude sickness by proper acclimatization. This is the reason you should start the route from Srinagar. As for medication, we took "Diamox", which worked well for us. Still, you must be prepared to listen to your body throughout the trip. At an altitude of over 4.500 m the lack of oxygen forced me to stop for breath every 2 km.
Be sure to carry and drink a lot of water, more than usual. If possible, avoid sleeping at high altitudes over 4.500 m.
Cycling on the cheap
Domestic transport is very cheap (plane Delhi – Srinegar € 70 with Jet Airways / Bus Manali-Delhi cat. Luxury € 20). The same goes for food and lodging. In non-tourist places we spent less than € 5 per night for room and board, double or triple that in places with lots of tourists. For the plane to Delhi from Rome, with a stopover in Germany, we spent € 650 on Lufthansa (bike travelled free).
Our total spending came to € 1.400.
Latest posts by Astrid Koger
(see all)