Read on for the latest app updates and news on all-things Bikemap.
iOS Updates:
We are super excited about our latest iOS updates. The Bikemap app got optimized for iOS 13 and includes many new exciting features for you:
Dark Mode 🌚
Reading maps is now easier on your eyes. Go to your settings, select the section 'display & brightness' and choose 'dark' appearance. The Bikemap app will now open in dark mode, which is perfect for low-light environments.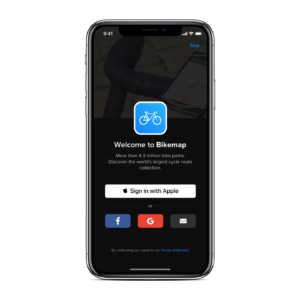 Apple Sign In 📱
You can now create a Bikemap account by using your Apple ID. Easily sign in with your Apple ID to start navigation and track your ride even faster.
Siri Shortcuts 💬
Go to the Shortcuts app and add a new shortcut for Bikemap. Let Siri know to navigate you to your destination by saying "Siri, bike me to …". Now you are ready to navigate with Bikemap anytime!
Fall Detection (Beta) 🚨
Stay safe by detecting your ride. The alert sounds, when you fall. It gets louder so that cyclists nearby get aware of your crash.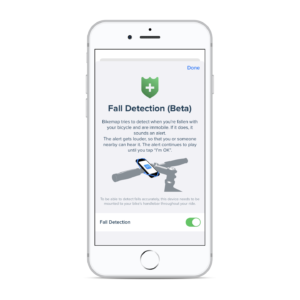 AR Mode 🗺
Be ready for any ride with augumented reality previews. Project your routes in front of you and take a closer look for better guidance.
Location Sharing 📍
Let your cycling friends know where you are – with the new location sharing feature. Quickly tap on your location (blue button) on the map to share your current location.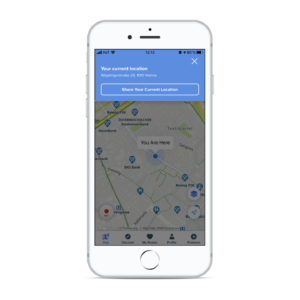 Download the latest Bikemap app version from App Store. 📲
Android Updates:
We put lots of effort into the latest Android releases. Many functions are waiting to be discovered by you:
GPX / KML Import ⬆️
Easily import all your routes as GPX and KML files directly into the Bikemap app and enhance your route collection on the move.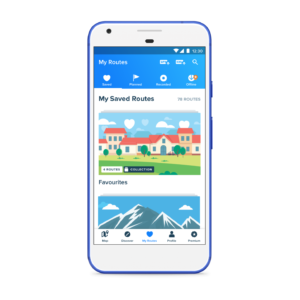 Elevation Preview 📈
Preview the elevation profile when you plan your route from A to B and you are ready for any climb.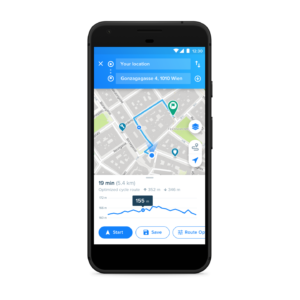 The following features will be available very soon and brought to you with Android version 10.14.0:
Route Title Suggestions 🔜 🗯 
No idea how to name your route? We will suggest a matching title for you.
Voice Navigation 🔜 📣 
Voice navigation will be available for all Android devices. Focus on the street instead of your screen.

Offline Download Storage Location Chooser 🔜 💾
You can soon choose if you want to store your offline maps and routes on your memory card or internal storage.
Download the latest Bikemap app version from Google Play Store. 📲
Updates for iOS & Android:
We are constantly working on giving you the best app experience across all platforms and devices. Major improvements got developed for both iOS and Android:
New Route Planner 🆎
You can now plan your route from A to B – with several stopovers – and navigate right away, or save it for later.
OpenCycleMap 🚲
We finally added the OpenCycleMap to the app for Bikemap Premium users. Many more advanced cycling map layers are available now on all platforms: OpenStreetMap, 3D & Night Map. There is even more to come – stay tuned!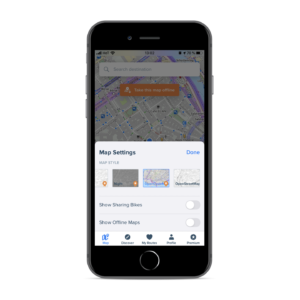 Edit Routes ✏️
We made it possible to edit your route details like title and categories, change privacy settings and even delete your unwanted routes.
More Languages 🌍
The Bikemap user base is growing and becomes more and more international. We translated the app again, so it's now available in 11 languages – German, English, Italian, Spanish, French, Dutch, Polish, Portuguese, Russian, Slovakian, Chinese – so you can enjoy Bikemap in your native language.
Moreover, we made several improvements and fixed many minor bugs to give you an even smoother experience. Like the newest iOS and Android updates? Share the love and write a review on the App Store or Google Play Store. Missing a feature? Please don't hesitate to get in touch – we are always considering your feedback for further product development.
Update now to enjoy the latest features built for your next ride.
Happy Cycling!
💙
Your Bikemap team
Latest posts by Astrid Koger
(see all)