In 2017, Hugo Gommeren embarked on an amazing transalpine bike trip.
Having always felt an incredible inner pull towards mountainous natural areas, his hobbies other than mountain biking include hiking, outdoor survival and photography. Wanting to experience these hobbies on an epic level, he planned his first transalp tour to test his endurance on the bike, his ability to cope with the elements as well as his self-reliance and resilience. We asked him to share his experiences of his transalpine endurance trip.
Preparing for the trip
I planned to ride the famous Heckmair route in 6 days from Oberstdorf, Germany, to Riva del Garda, Italy. However, taking the train back from Riva to Oberstdorf seemed anti-climactic, so I chose to ride the Via Claudia route back to Oberstdorf within 6 more days. My trip would consist of 12 days of cycling with one day of rest inbetween. I wanted to be as independent as I could, so B&B's were optional, only if really required. I mounted all my sleeping and cooking gear to my bike, with food supplies always lasting for at least the next 3 days.
I already knew how to pack light and sturdy, so my bicycle only carried 7 more kilos.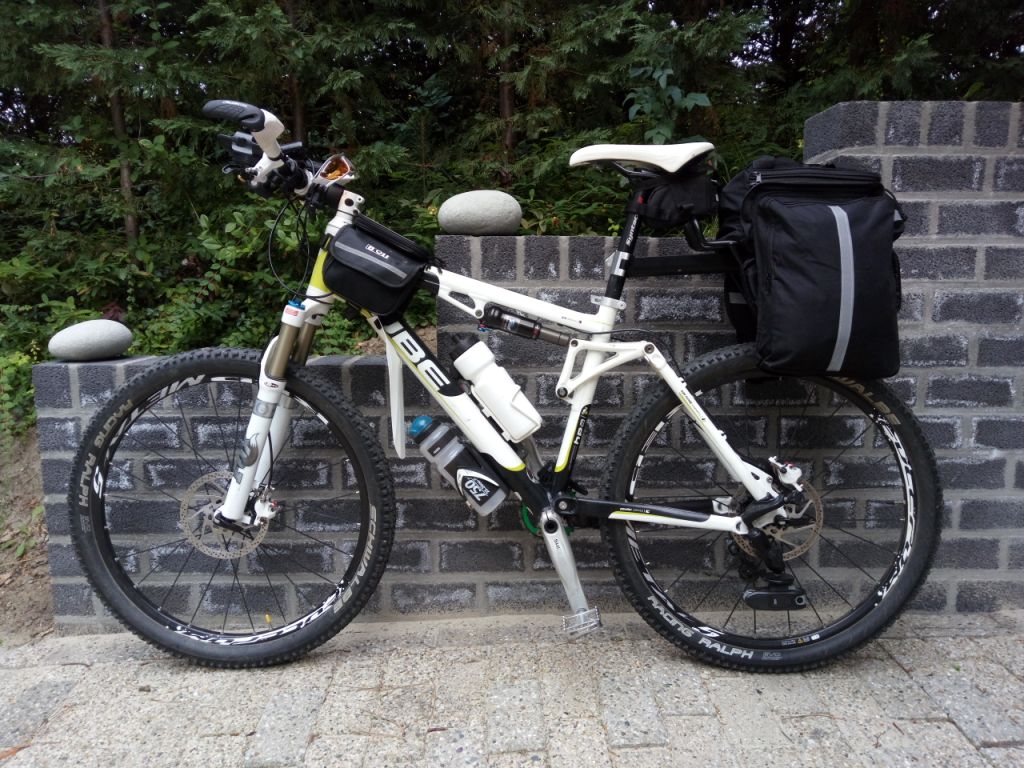 These 7 kilos included:
Sleeping gear (sleeping bag, pillow, tarp, bivy bag, therm-a-rest)
Food (muesli, instant pasta, nuts, jerky beef, powder milk and a spork)
Safety equipment (multitool, first aid kit, tire repair kit, a chain link etc.)
Personal care items (medicine, toiletries, towel, mosquito spray, sunscreen, lip balm)
Other stuff (GPS, smartphone, charger, head lamp, rain jacket, clothes)
My physical preparation started 9 months before the trip. I primarily concentrated my training on endurance, with the length and intensity of the trips increasing and pauses between trips decreasing over time.
In the end, I was able to ride 75km a day, sometimes on consecutive days, to test if my body would regenerate quickly enough.
The start of the adventure
I started my first day early in the morning and the real adventure started soon enough at the first mountain pass from Germany to Austria, the Schrofenpass. The pass is impossible to cycle up and even relatively challenging without a bike. Little did I know that the Heckmair route has at least 4 more mountain crossings which can only be done by carrying or pushing your bike.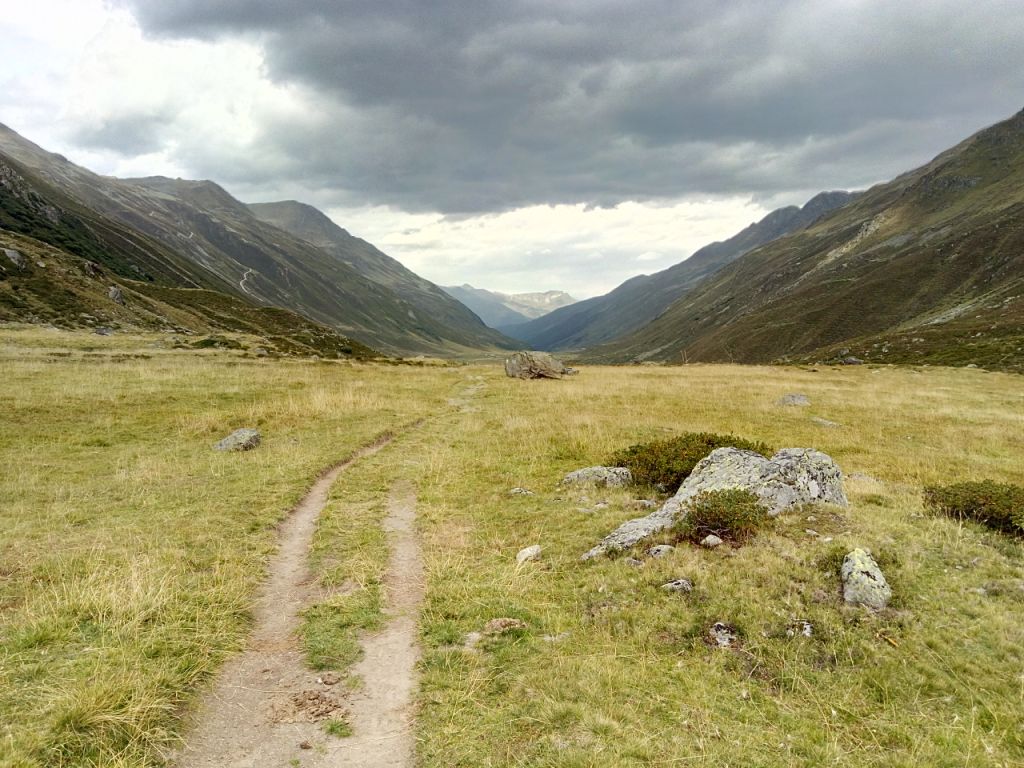 Continuing my journey in Austria, everything was relatively easy around Lech and the sun was shining which brought out tons of battery upped mountainbikers (bummers). However, dragging my way up the mountain still provides me with too much gratification to use one of these.
Being rewarded by stunning panoramic views which await once you reach that highest point is all the more fulfilling.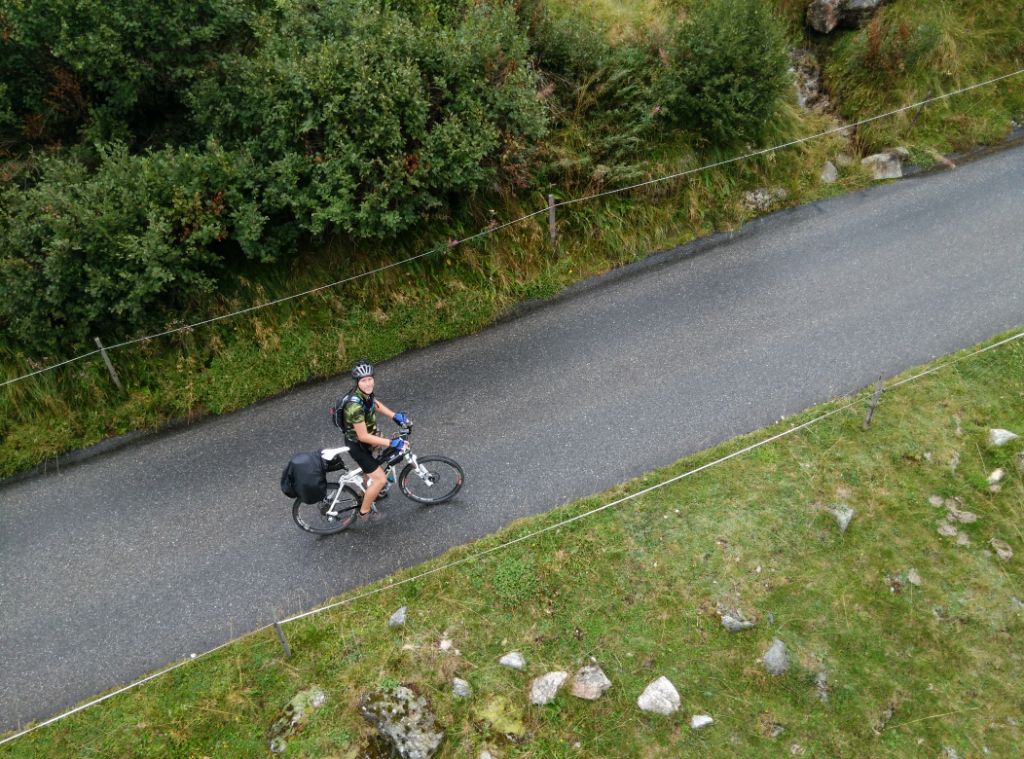 Perhaps this contributed to me cycling a bit further than the designated end point of day 1, which was supposed to be near lake Formarin. I added the complete descent down to Dalaas and with what seemed to be lead in my legs, I managed to climb back up the Kristberg to spend the first night out in the open.
Bye Austria, hello Switzerland
On the second day, I was soon close to the Swiss border. Further up, the Schlappiner Joch was physically challenging and at that point, after carrying my bike over large rocks for over an hour, I was convinced I had never done anything harder in my life before. It's funny in hindsight how you rise above yourself and just when you think you've reached your maximum ability, you rise above yourself again.
So there I was, holding the proof of my first victory in my hands: the 2-sided border sign which divided Austria from Switzerland.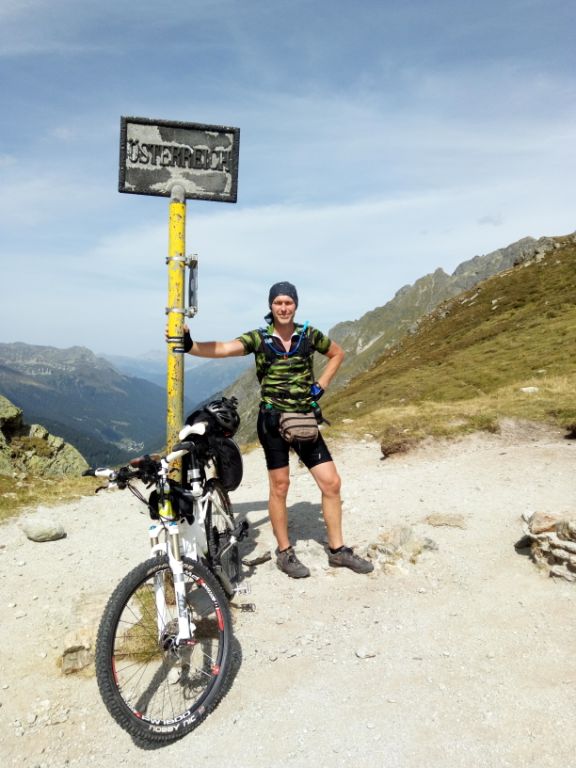 Up until that point the weather had been in my favor, but the weather gods had something additional in mind. It started with a light drizzle in the evening with temperatures going down and as a precaution, but also fuelled by my mental state after the heroic day I had undergone, I decided to spend the night in a hotel further down in the valley in a town called Klosters.
Going into overdrive at the Scaletta pass
The weather was a bit dim on day 3, but the weather gods were still allowing me to advance and the climb towards the Scaletta pass was easy going. Pedalling my way up, I could sense my body switching over from normal operating mode to overdrive where it would stay for the rest of the journey. I could feel the aged fat I had on my body melting away. I had already lost some weight during my preparation phase, going from my normal 83kg to 80kg, but after my adventure I only weighed 76kg at 1,83m tall.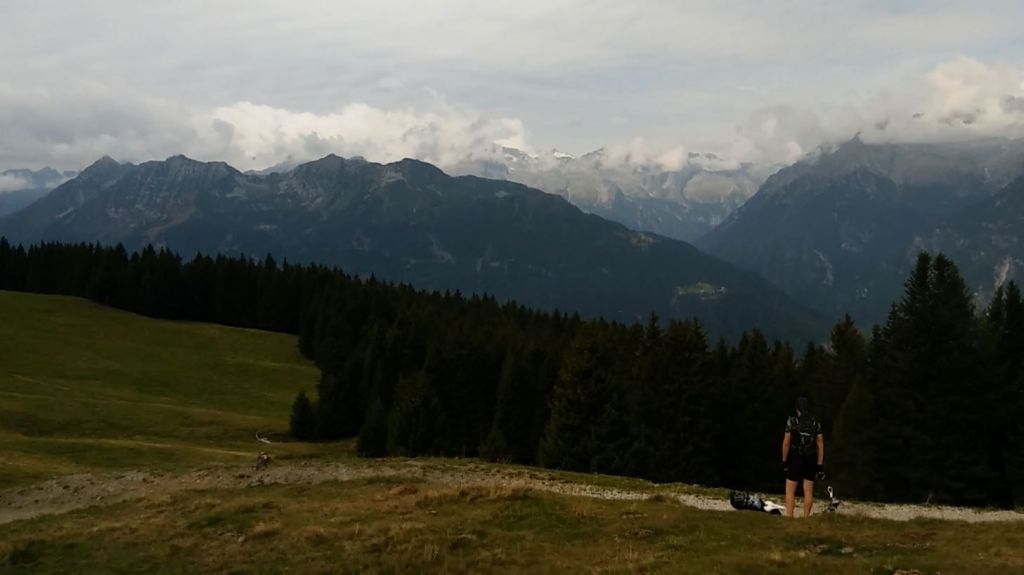 The descend from the Scaletta pass was amongst the most fantastic and fun rides I experienced. Not too technical but still challenging enough (especially with the luggage) it felt like it would last forever. All the more confronting was the second climb in Switzerland towards the Schauna pass to Italy, especially the ridiculously steep last stretch of trail towards the pass. I had to push my bike and hold it by braking with every step to prevent it from sliding or rolling back down. Not much time for a victory feeling at the top, because the weather wasn't looking particularly promising in whatever direction I looked. When I quickly descended to 2000m, I found a lovely meadow with picnic areas and stone barbecues. I had already set up my tarp when temperatures started dropping below 2 degrees Celsius with heavy rains.
I was simply not equipped for such elements, so I stayed in a pizzeria in Livigno .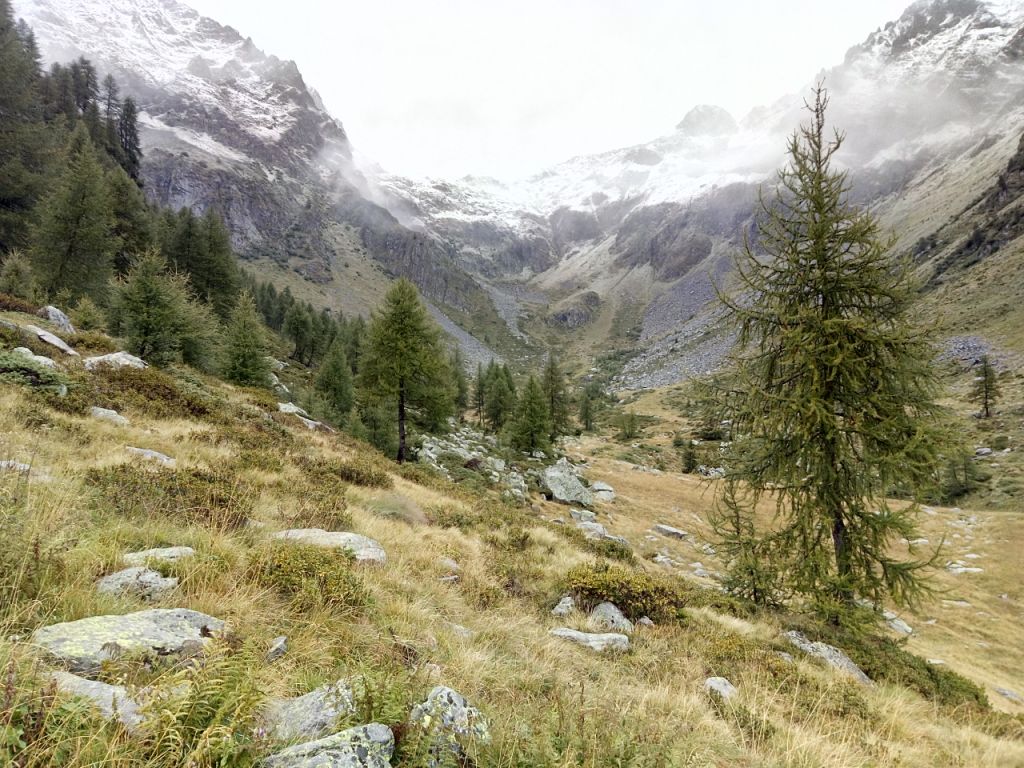 Fighting the weather
Over the next few days, I realized that I had made one critical mistake during my preparation: My choice of clothing was only suitable for sunny to moderate weather conditions. I should have known that weather can easily turn wintery in early September, having lived in the Alps for 7 years. Luckily, Roberto from the local mountain bike rental shop kindly offered some warm clothing he had lying around. Once down in Bormio, I made the crucial decision not to cross the Gavia pass which was blocked by heavy snowfall but to cross the slightly lower Passo di Mortirolo to arrive back on route: Although completely asphalted all the way up, this seemingly mediocre hill climb was quite a nasty one to take with a continuous slope of 10 to 15%.
On day 5, snow was falling at 1800m and I had to conquer a crazy uphill by foot from 1100m to the Passo di Campo on 2300 something meters over a snow covered trail in hardly adequate clothing. I was lucky to find the restaurant Da Pierino on the other side not too long down. The next day I arrived at the farthest point of the route, Riva del Garda. I had started in the frosty morning only to arrive at the wonderful Sentiero della Ponale at the Garda lake with around 30 degrees celsius.
Riva was like taking a warm bath after the experiences of the last couple of days.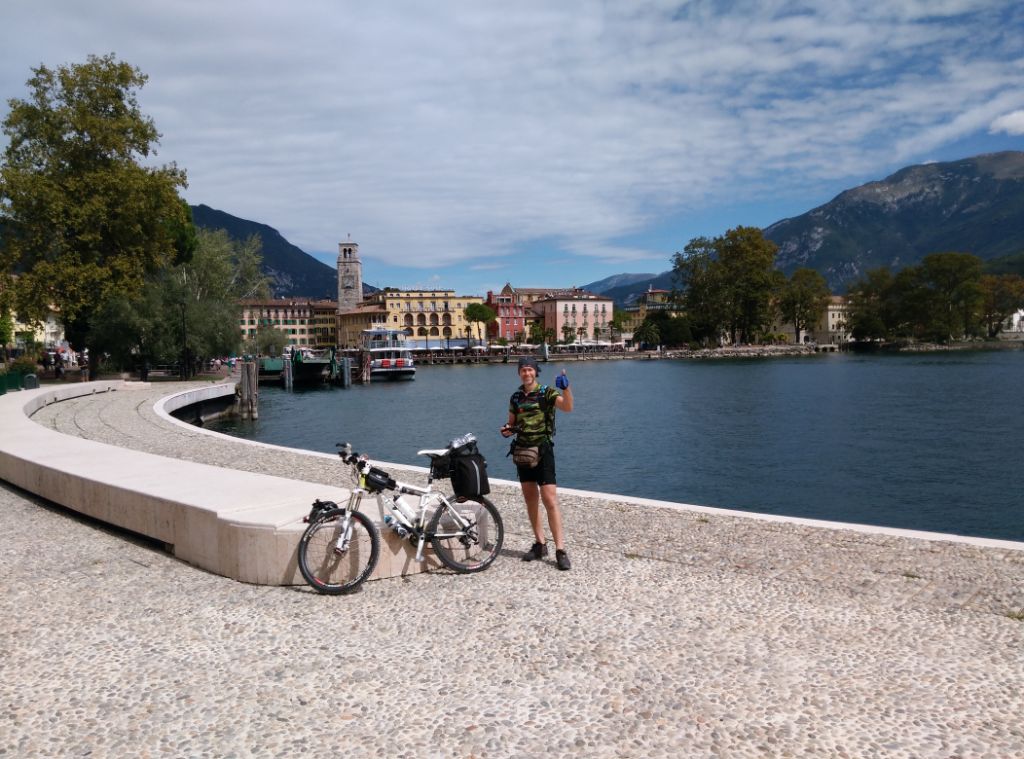 Enjoying gorgeous views
I had planned to remain in Riva for a day's rest. While recovering quickly in the warm afternoon sunlight with a pizza at the waterside of the lake, my emotional state reconfigured in a slightly different way. While truly enjoying and relaxing for a bit, I suddenly felt heart-struck and wanted to return to my family. So instead of staying in Riva, I continued my journey back to Oberstdorf straight after the pizza.
I was rewarded a fantastic view on my way up and away from the Garda lake.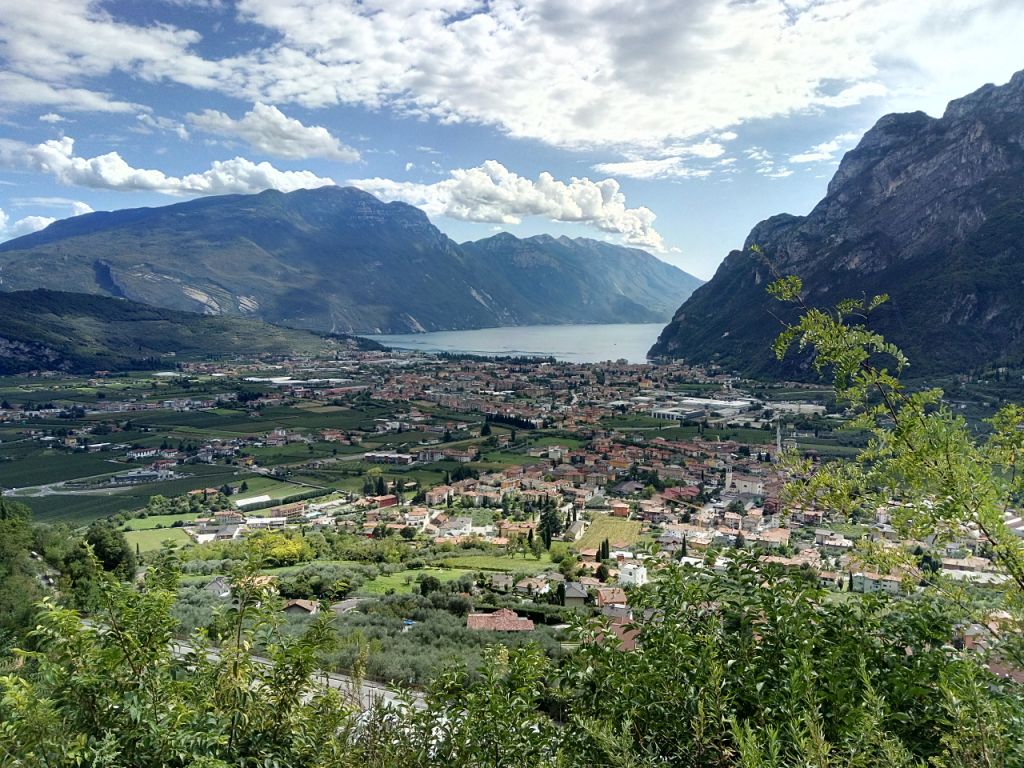 Exhausting way back
Some tens of kilometers down the road, my legs started to resemble spaghetti while passing Ponte Arche, so I decided to stay in a small picnic area in Stenico for the night . In the next morning, the weather, although still cold up in the mountains, was fine and the long climb up through Val Stenico was very enjoyable because of the constant moderate slope. Once up on 1800m, views are absolutely stunning and further in the direction of Madonna di Campiglio, the surroundings are a feast to one's eyes.

Down from Madonna to Dimaro, following the Torrente Meledrio, you can gain a lot of speed on the relatively wide and straight trails down. One of the differences between the Heckmair variant I took in comparison to the Via Claudia route back is that the Heckmair route provides an almost constant string of ordeals, whereas the Via Claudia route I took has long stretches of normal bicycle paths which basically start right after Dimaro. This makes it possible to cover some serious distance within the time frame of a day.
Still, with 2 trail climbs in my legs already, I was exhausted upon approaching Revo in Val di Non, with 80km on the odometer for that day. I first robbed the sandwich bar of a small restaurant and then the nuts and fruits section of a local supermarket. I was directed to a brand new B&B called Raina in Castelfondo, which had opened only very recently where I was rewarded with great hospitality and a beautiful room.
Loving on my bike
Day 8 started with a little detour because I really needed to get a broken spoke fixed before my rim developed some serious damage. Strangely enough that was the only technical issue I had, I did not even suffer a single flat tire throughout the whole trip. However, right after my trip, I did have to exchange just about every bearing as well as my chain set and some more things.
My bike endured the ride but gave everything it had to not get me into trouble.
Anyway, I was still cycling up and down the Gampen pass towards Merano. I got a long long way that day (134km), all the way into Austria where the weather started to turn again. Due to the freezing cold and the rain up the Reschenpass, I stayed in a B&B again.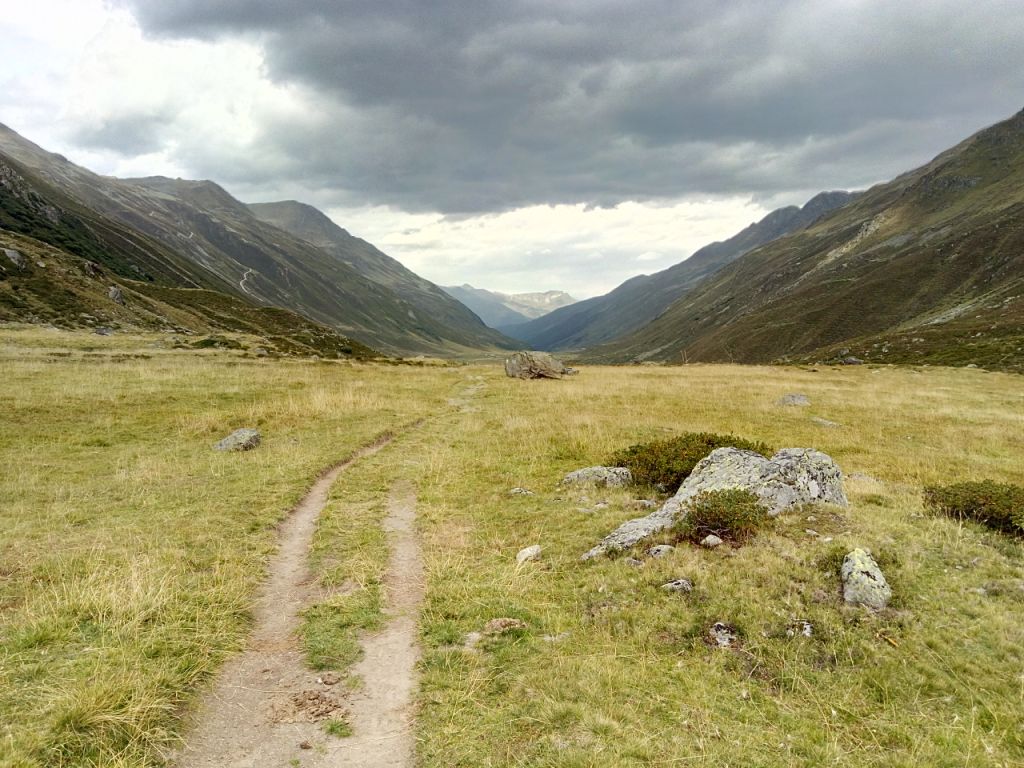 Respecting the weather
The next day the weather gods were angry at me again. The Via Claudia route had a few nice crossings on high altitude planned for me, but the weather really didn't play with me, so I regretfully decided to not take the risk (again) and follow the bicycle path down to Landeck. Rain turned into heavy rain and the forecast pointed out that it wasn't going to improve any time soon. My calculations showed that I had a fair chance of reaching my end goal of Oberstdorf before night fall if I cheated on the climb up to Lech by taking the bus. With an extremely bad forecast for the next days to come, it didn't make sense to spend another night, so I decided to try to arrive at my end goal in the evening. As I imagined that the same trail over the Schrofen pass which took me from Oberstdorf to Austria on the first day would now be soaked and terribly dangerous, I soon didn't have any regrets anymore. I then only needed to pass through Mittelberg to arrive at the starting point of my journey. I found my car right where I had left it 9 days before and I felt weary and enriched at the same time when loading my bicycle and gear into the vehicle.
It has surely been a life changing event for me and I'm determined to plan for the next trip and hope to keep doing this and similar adventures for as long as I will physically be able to.
Want to see more?
Check out this amazing video of Hugo's trip.
For more awesome routes check our search
Routes starting in Bavaria on Bikemap
Latest posts by Hannah Jachim
(see all)
Similar articles you will like