Bikemap user Matteo Colizzi has embarked on many epic bike trips.
In November 2018, he rode from the Salar of Uyuni to the road of the Lagoons, crossing the Andes in Chile and finally reaching San Pedro de Atacama and the Pacific Ocean together with Giovanni Panebianco and Tony D'Angelo. On their journey, they overcame about 900km in the south-west of Bolivia at high altitudes on uneven and sandy terrain but with a priceless view. You can find Matteo's route on Bikemap here.
Their route from Uyuni to Antofagasta in numbers:
🚲 Length: 887km
🚲 Ascents and descents: 11,300m
🚲 Road conditions: Sandy terrain 170km (very slow riding), salar terrain 160km (slow riding), tarmarc road 300km (fast riding), other dirt roads 250km (normal riding)
🚲 Temperatures: 0-20°C with strong winds in the afternoon, the best period for traveling is November and May
🚲 Time: 12 days
Itinerary
The itinerary goes from Uyuni to Antofagasta and is about 900km long. Most of the route is located on streets that are not easily ridden (between salt, sand, calaminas and hills) up to the border to Chile where the asphalt and long descent take you to the civilization of the town of San Pedro de Atacama. The first part is characterized by the crossing of the Salar of Uyuni which is about 150km long and interspersed with an overnight stay at the Island of Incahuasi .
After a short mixed stretch between asphalt and "ripio consolidado" (with calaminas) on 400km of the lagoon road ("Rutas del las Joyas"), the route passes over sandy roads and starts at an altitude of almost 5000m where there will be many points where you must push the bike and few points where you can exceed 15km/h. Especially the part from the Chuvica desert to the Colorada lagoon is a very sandy 150km-long stretch with steep sections. There will be some refreshment points to defend oneself from the cold nights but also panoramas and spectacular places made up of lagoons, volcanoes, geysers and sandy deserts. No traffic. We only saw the jeeps of tour operators that take their clients on the same route we did.
The last part of the route crosses the arid Atacama desert until it descends to the Antofagasta Ocean where traffic consists of some trucks.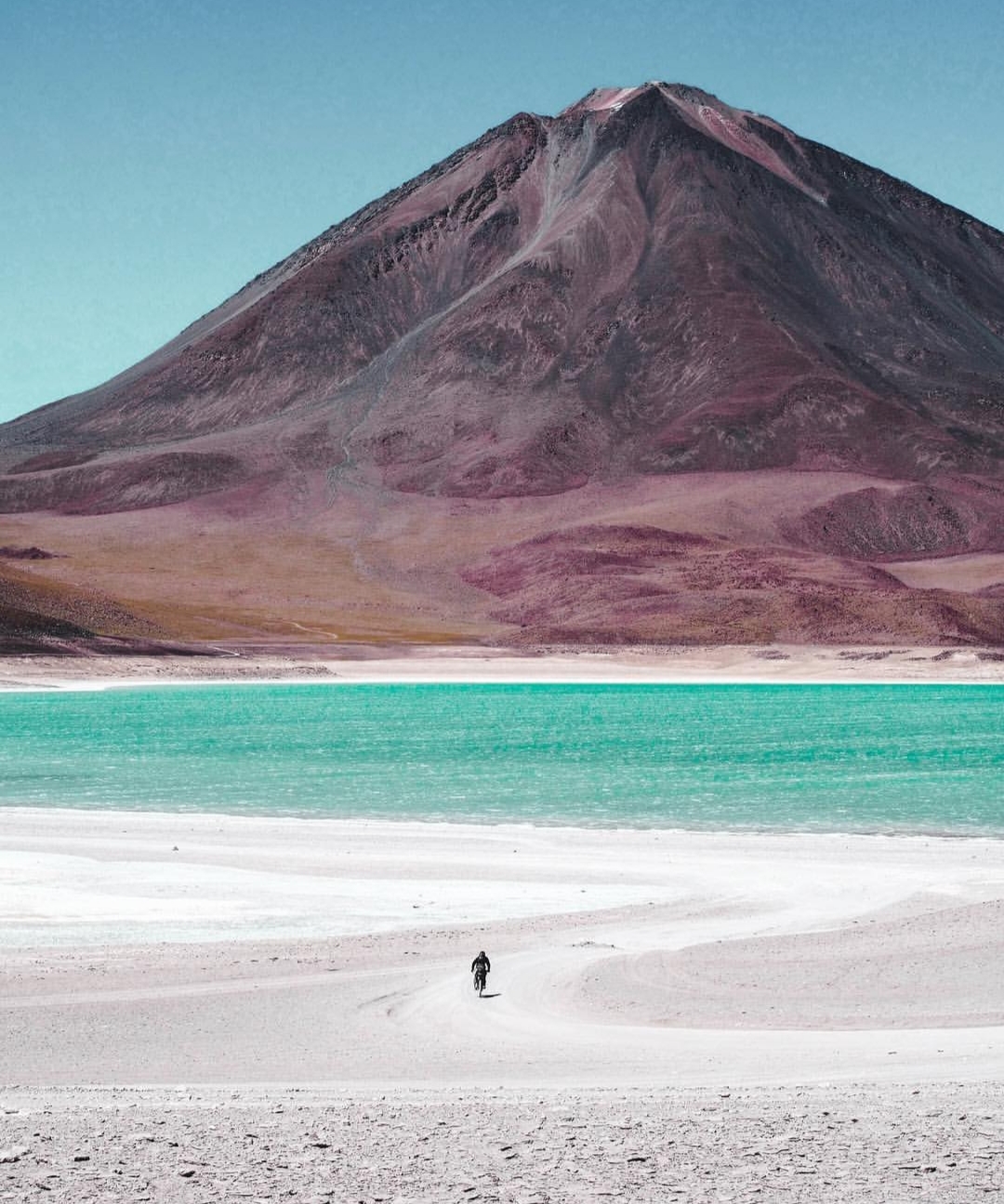 Equipment
There are not many supply points and the cold, especially at night, requires adequate clothing. Even the strong sun must be taken into consideration especially along the salar that makes a mirror effect for the sun. You need to be covered from top to bottom with glasses and balaclavas. However, more weight is lost in the sand. Most cyclists we encountered along the lagoon road traveled in bikepacking mode to ensure greater weight distribution. Due to the sand, very wide unticked tires are needed. The tent and the stove must be brought along even if it will not always be necessary to use it. See board and lodging at the next point.
Food & Shelter
We slept everywhere but the offer on offer is very poor. You can only sleep in hotels or hostels in some places, furthermore, there are shelters and you can stay inside the museum on the island of Incahuasi.
Below, we point out possible solutions for sleeping and eating from North to South, however, it is always possible to set up your tent.
– Stage 0 – Uyuni: All services
– Stage 1 – Colchani: Hostels, luxury hotels at the start of the Salar, food and restaurants.
– Stage 2 -Incahuasi: Museum (cheap place to stay), restaurants.
– Stage 3 – Chuvica (Exit Salar of Uyuni): Hostel and food.
– Stage 3 – Colcha K: Hostel and food.
– Stage 3 – San Juan: Hostel and hotel, food.
– Stage 4 – Laguna Chiguana: Military camp as a possible spot for resting. No food, but water.
– Stage 4 – Laguna Canapa: Camping and food.
– Stage 5 – Laguna Hedionda: Luxury hotel. Only restaurants. It's possible to ask for a cheap chauffeur room.
– Stage 5 – Hotel del desierto: Luxury hotel. Only restaurants. It's possible to ask for a cheap chauffeur room.
– Stage 6 – Laguna Colorada: Refuge, hotel. Food and restaurants.
– Stage 7 – Laguna Chaviri: Hotel and hostel. Only restaurants.
– Stage 8 – Laguna Verde: Refuge and food.
– Stage 8 – San Pedro de Atacama: All services.
– Stage 9 – Toconao: Hostel and food
– Stage 9: – Campamento Andino: Camping and water.
– Stage 10 – Nothing.
– Stage 11- Baquedano: All services.
– Stage 12 – Antofagasta: All services. Gas service along the way.
The Bolivian cuisine is very simple and consists of rice potatoes and llama meat. There are many empanadas. There isn't much water located along the route – you are in a dry place – so refuel and get water that will last until you reach the next place; I started with 3l.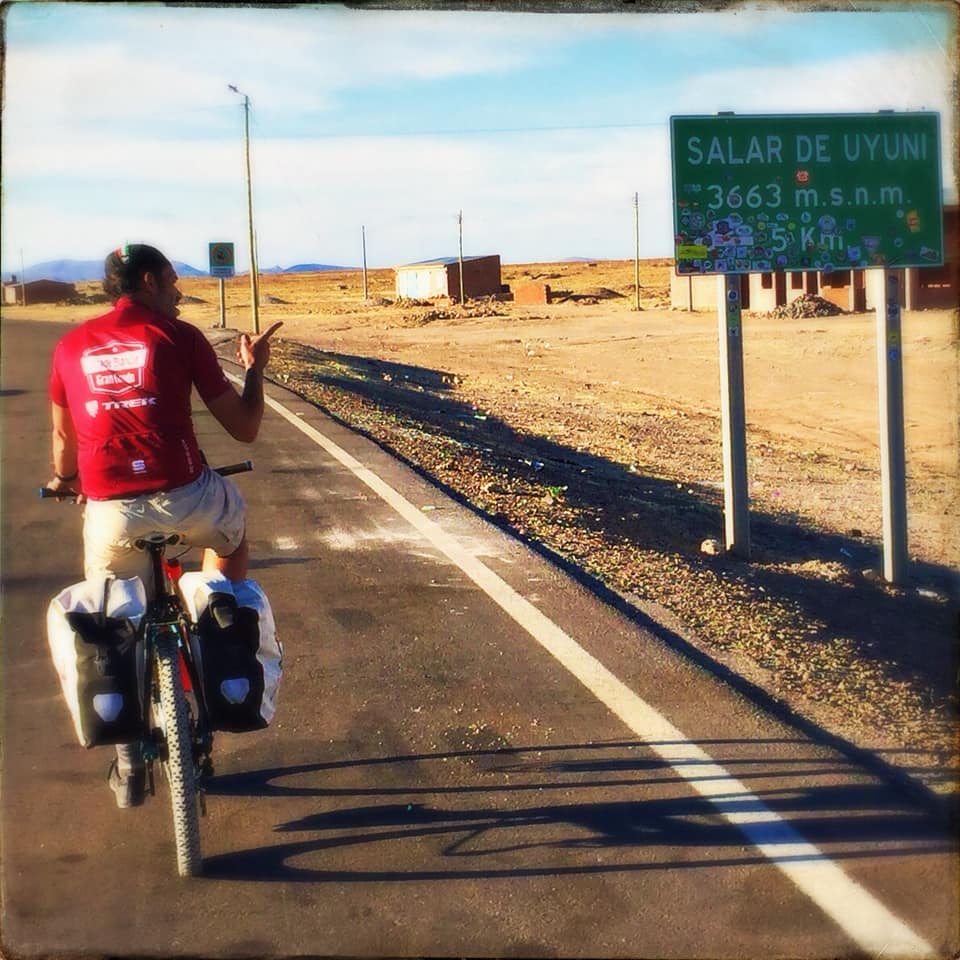 How to reach Uyuni
I chose Alitalia to fly from Rome to Santiago de Chile. We arrived in Santiago and took a plane to Calama (in Chile, 2000m above sea level) – there are several airlines. An Atacama2000 bus that doesn't depart every day at 6 a.m. takes 7h to reach Uyuni. Book it on recorrido.cl.; it also transports bikes.
If you land in La Paz there are flights that reach the small Uyuni airport. Alternatively, taking the bus is the cheapest but longest option. Uyuni is about 3600m high, if you arrive by plane you likely lose a day to acclimatisation.
Antofagasta has several internal flights to Chile but none for La Paz. If you have to go back to La Paz you should stop in Calama and take the bus to Uyuni, then another bus or another flight. It is also possible to reach Uyuni from Argentina in 15 hours. From Salta you can take two buses; one to the border with Bolivia and the other from Bolivia for Uyuni. For the return after the Chilean border and before embarking on the descent towards San pedro de Atacama, there is the famous Jama Pass which takes you back to Argentina.
Weather
Windy afternoons and cold nights. There are no predominant winds in one or another direction. One thing, however, is certain, during the morning, they are relatively calm but rise strongly in the afternoon. Temperatures change between day (20 degrees) and night (0 degrees).
The best time is November and May: From December to March, the salar is flooded, sometimes even in April, so it cannot be traveled by bicycle. In the other months during the austral winter, the temperatures are very rigid. October and late April are also good.
Be careful!! Big parts of the route consist of cycling at a high altitude. Drink a lot and go up gradually.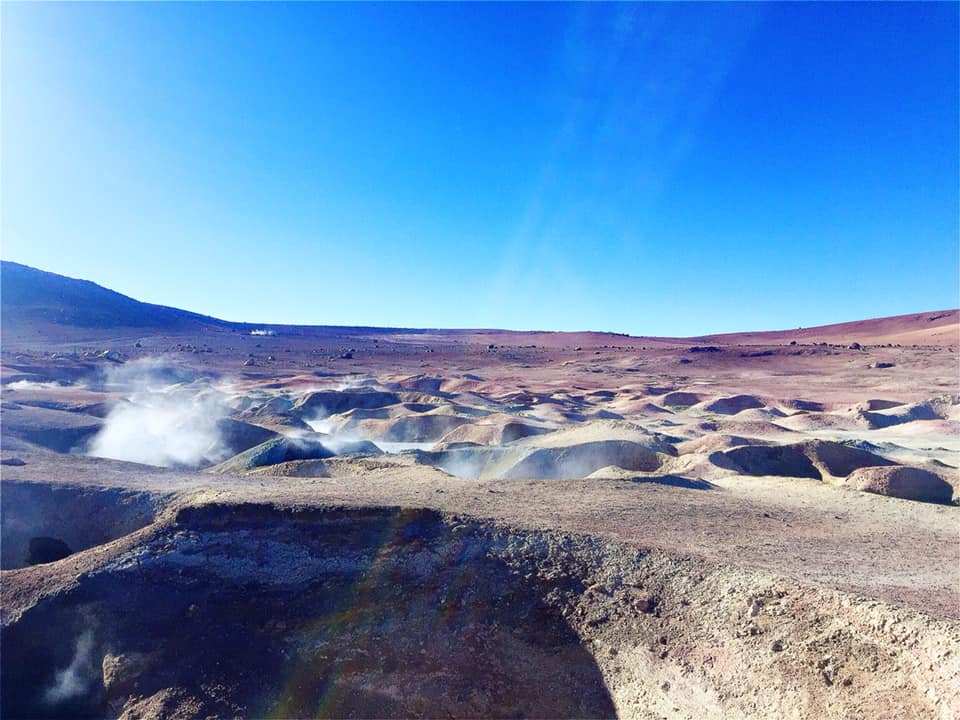 Costs
In Bolivia, you don't need much money while Chile is a little more expensive. Shelters cost very little (around €4). Hostels cost less than €10 in Bolivia but more than €15 in Chile. A hotel in a touristic position cost about €100 per night in the Salar and on the lagoon road. In local restaurants, expenses are small (about €5); this cost doubles in Chile and in touristic places.
The fundamental expense is transport as always: The flight for Santiago A / R is €600 with Alitalia which allows free bike transport. The internal flight to Calama costs €50; from Calama, the bus to Uyuni costs €12. Going from Antofagasta to Santiago by plane costs €50. For internal planes, it is necessary to request extra bike transport which costs about €20 each way. A visa is not required for those coming from Europe. A fee of about €8 must be paid to enter the PN of the Laguna Colorada and another for entry to the island of Incahuasi.
Additional expenses for some excursions to San Pedro de Atacama cost €30. There are only ATMs/bancomats in Uyuni and in San Pedro de Atacama. Credit cards and dollars/euros are only accepted in touristic hotels.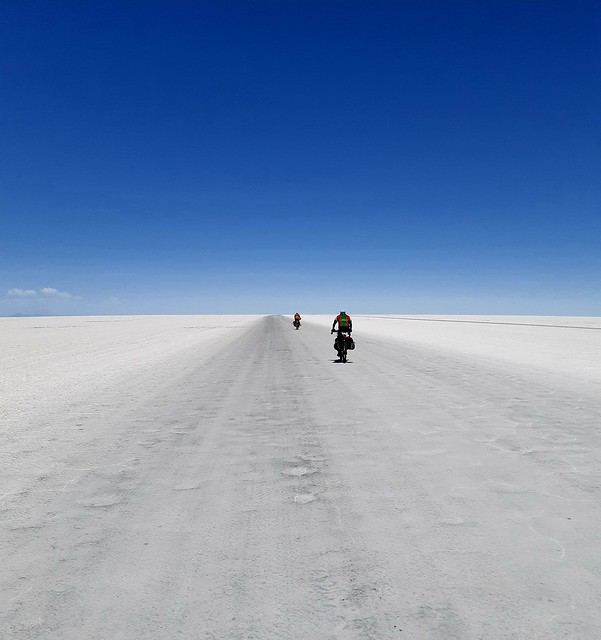 Highlights of the trip
Places that deserve a visit:
Riding in the salt desert of Uyuni, the highest and largest salt desert in the world
The enchanted Bolivian plateau
The Salar of Chiguana
The succession of the laguna Canapa, Hedionda, Honda l etc.
The "Albor de Piedra"
The red of the Colorada lagoon
"Sol de la Manana", a geothermal site with a geyser with the highest point of the route reaching 4900m above sea level
Chaviri lagoon with a bath in the hot springs
The passage between the White Lagoon and the Green Lagoon
The crossing of the Andes and 30km of descent to San Pedro de Atacama
Excursion to the valley of the moon and the valley of dead
The crossing of the arid desert of Atacama
Swimming in the ocean at Antofagasta
Want to see more? 
Check out more awesome routes in Bolivia and Chile on Bikemap!
Latest posts by Hannah Jachim
(see all)
Similar articles you will like