Bikemap user Matteo Colizzi has embarked on many epic bike trips.
In December 2017, he bikepacked 1247 km of the Carettera Austral in the Chilean Patagonia from Puerto Montt to Villa O' Higgins, one of the most scenic road in the world that welcomes many bike travelers every summer. The region is characterised by "Ripios" (dirt roads) and a fantastic surrounding environment formed by the jungle, glacier mountains and blue lakes. You can find his route on Bikemap here.
The Carettera Austral in numbers
 🚲 Days: 13 +2 (for the exit to Carettera)
 🚲 Length: 1247 + 200 kilometers (for the exit to Carettera)
 🚲 Dirt Road (Ripio): 70%
 🚲 Ascends and descents: 11,000 m
 🚲 Accommodation  B&B, Hostel, Shelter, Camping
 🚲 Rain: 50%
 🚲 Cost: 2,000€ 
A South-American adventure
La Carretera is 1247km long, with the exception of ferry routes. 70% of it consists of dirt roads (ripio consolidated), the remaining 30% are made up by tarmac with a small emergency lane on the side where you can pedal safely. Sometimes, there may be rocky stones or washboards (calaminas on Puerto Tranquillo, Villa Cerro Castillo). Usually, the stages go up and down with a few long climbs (max. 6 km). The medium difference in ascent for a stage of 100km is approximately 1000m.
The first part of the tour is characterised by a jungle landscape with thick vegetation; the second part after Coyahique is more mountainous.
The roads are unique and easily found. The vehicular traffic, consisting mostly of 4x4s and suvs, is very low except close to Coyaihique city.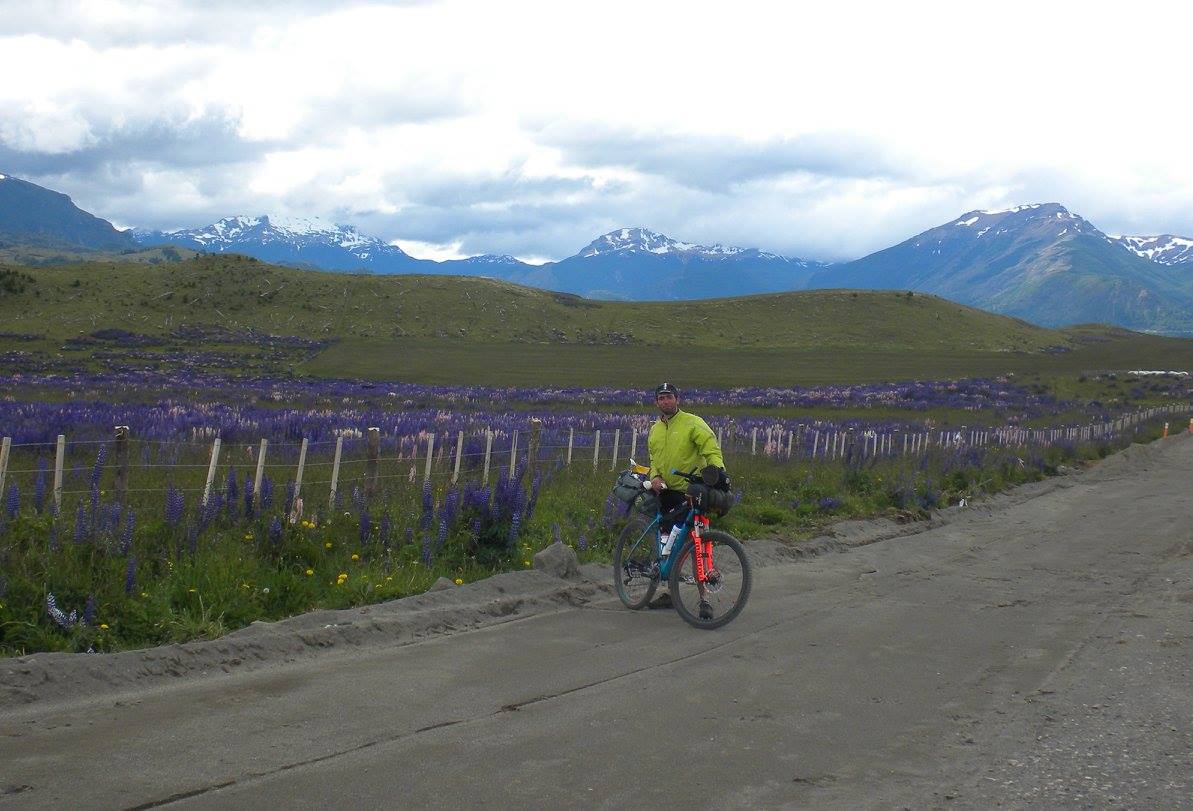 Why bikepacking?
This was the first long journey I have done in bikepacking mode. This turned out to be a good choice given the lack of the cooking material (you'll find a village approximately every 50km). This was particularly complicated for some sections of single track in Argentina.
When traveling this way, you travel lighter and you ride greater distances that allow you to get to your destination at the end of the day more easily.
I also brought a tent (not necessary at the end), a mattress and a sleeping bag as well as a small stove and cooking stuff. Sometimes I made myself a sandwich to eat during the evening or at lunch.
How to reach the Carretera…
I chose to take a plane from Rome to Santiago de Chile and flew from Buenos Aires to Rome on my way back. Upon my arrival in Santiago I spent some time in the city to visit friends. From there, I took a night bus (cama mode) to the city of Puerto Montt, which took 12 hours. Alternatively, you can get to Puerto Montt directly from the airport of Santiago with a short flight. It is also possible to reach the Carretera Austral in Santa Lucia from Bariloche (Argentina) after about 380km between Ruta40 (tarmac) and Ruta259 (ripio/asphalt) and passing Futaleufù. Bariloche is easily accessible by airplane or bus from Buenos Aires.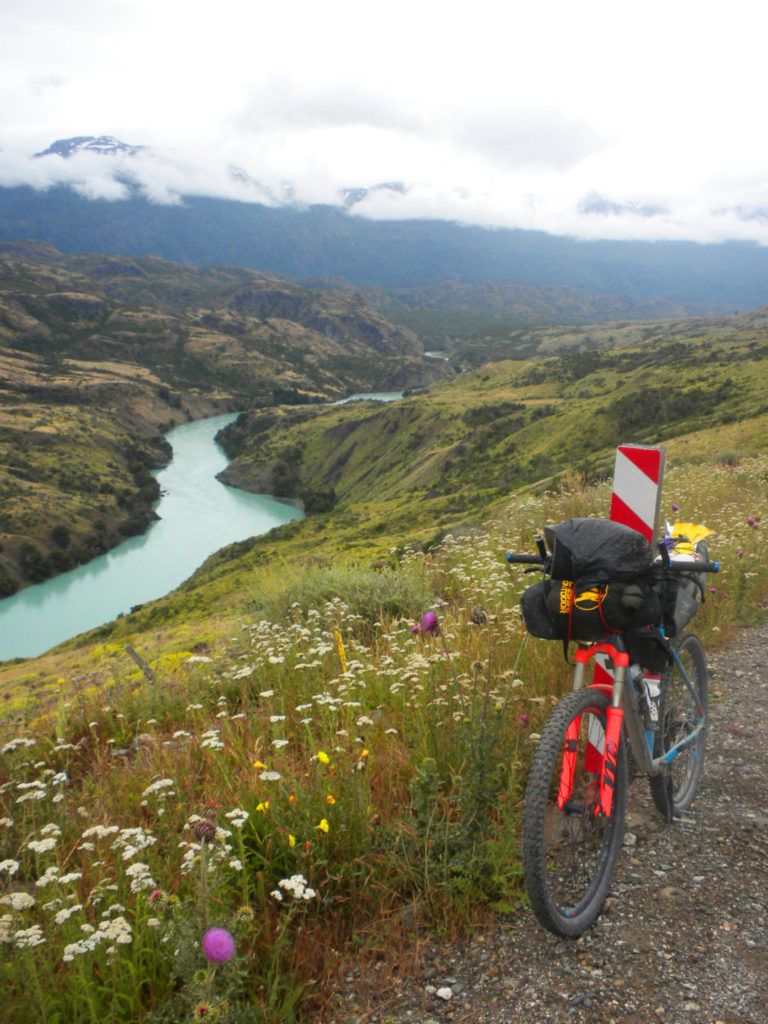 …and how to get out of the Carretera!
La Carretera ends at Villa O'Higgins in Puerto Bahamondez (7km after the village). From there, there are numerous alternatives.
 Transfer to Argentina and specifically to El Chalten by ferry (to be booked in the village or on the villaohiggins.com website). This service is only available during the summer months and starts with the crossing of Lake O'Higgins. After a complicated ride of 22km of single track in the woods take another ferry through the lagoon of the desierto, and ride 55km to El Chalten. This route is spectacular but hard with beautiful views of the Fitz Roy. The ferry leaves on alternating days, but if the weather is bad, it does not depart. There's also the little airplane from Villa O'Higgins – that also loads the bikes – which lands at Candelario Mancilla. With the ferry, you can make a visit to the glacier O'Higgins but you must stay a night at Candelario Mancilla on the border between Chile and Argentina.
After the 210km-long ride from El Chalten via Ruta40 (monotonous, windy and without vegetation) you arrive at El Calafate (ARG – flight to Buenos Aires). You can also reach Punta Arenas (CHI – flight to Santiago) from El Chalten bay riding 640km via Ruta40 and Ruta9. El Chalten, like El Calafate, also has many buses that load bikes (they might need to be dismantled due to the need for space) with a supplement; it is possible to request a bike box at the HLS shop in El Calafate at Calle Perito Moreno 95 (at the crossing of the main street next to the supermarket).
 Ruta Mayer. It is a border crossing towards Argentina that can only be used by pedestrians or cyclists which can be reached via a road that starts just before arriving at Villa O'Higgins. Inquire first with the Chilean carabineros because the path is not always open. After crossing the border you have to be accompanied through a forest and try to cross a river over a private little bridge (you can find more info on this here). This route can be used as an alternative to get to Argentina if bad weather prevents the departure of the ferries to Candelario Mancilla. It joins the Ruta40 in Las Horquetas.
 A ferry leaves from Caleta Tortel, a beautiful pedestrian village overlooking the sea 150 km north of Villa O'Higgins once a week to Puerto Natales. The trip takes 2 days. From there you can easily reach Punta Arenas (flights to Santiago de Chile). There is a private bus or transfer service from Villa O'Higgins to Caleta Tortel.
 Return to Coyahique (a two-day-long bus trip of 560km). Here is an airport with flights to Santiago de Chile.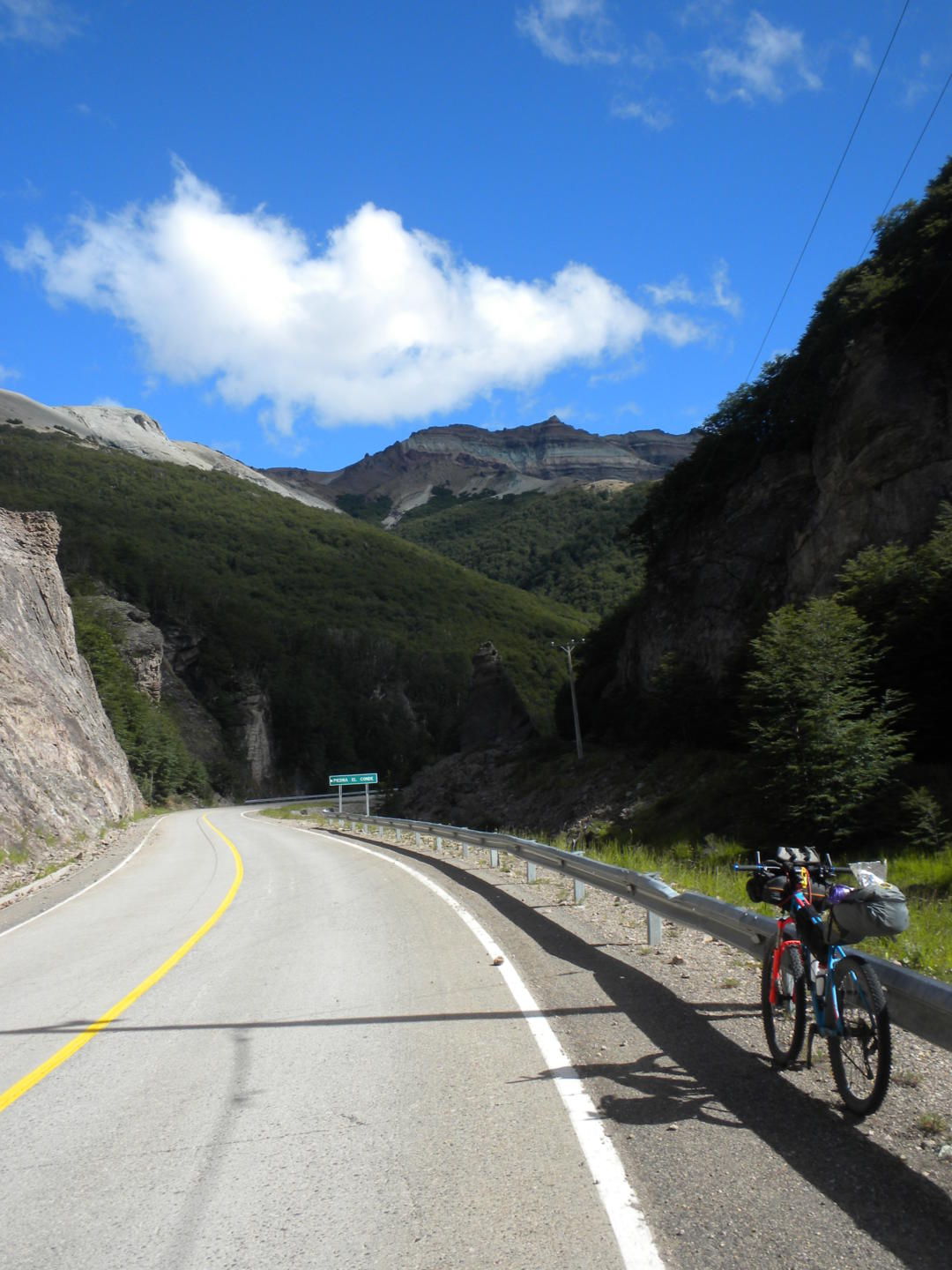 Food & Shelter
It is an option to sleep in local B&Bs (hospedaje) where local families make one or more rooms of their house/farm available to guests. The rooms can be equipped with single or bunk beds and many are shared with other travelers, as are the bathrooms. They cost 10.000 pesos (€13) and can provide an extra service for breakfast and dinner. Some hospedaje offer the possibility to use the kitchen.
You can also rent a full Cabanas with kitchen and several rooms, a good solution if you are in a small group. The campsites (camps) present in each country are well equipped with wifi and hot showers (like all hospedaje) and cost approximately €6. Before Villa O'Higgins you can sleep in a shelter/refugios 51km after the rio bravo mall. You can also camp on a farm (ask for permission first). There are hostels in larger cities (Puerto Montt, Hornopiren, Coyaique, Cochrane) where you can cook. The Mosco at Villa O'Higgins and the cyclist's house in El Chalten are two stops for bike travelers. There's no need to book as most hospedaje/hostels are not even on the internet and always have rooms available.
The Chilean Patagonian cuisine has not impressed me as it's very simple although the bread and the empanadas are great. On the other hand, there is something fabulous about meat in Argentina.
Each village has several grocery stores where you can pay by card. Finding drinkable water is no problem, you can also drink the water from the rivers.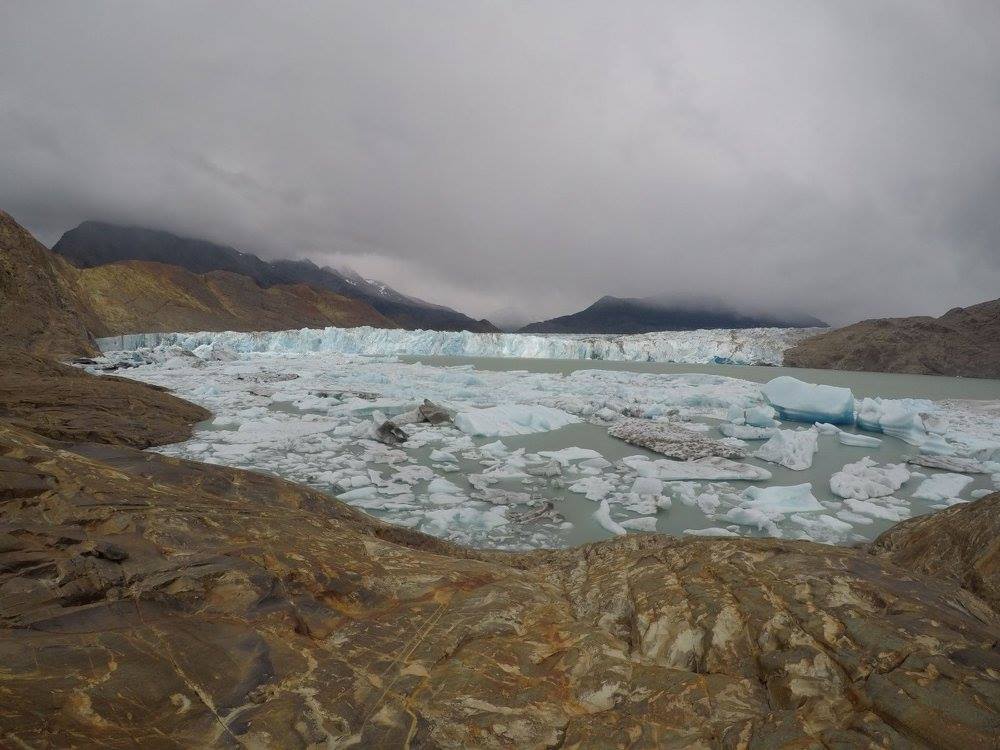 Braving the weather
Get ready for rain. There are only a few days where it doesn't rain, but the rain isn't heavy and not too cold. The southern part after Coyaihique has less rainy days but is more prone to winds. I encountered the windiest stretches between Cerro Castillo and Puerto Bertrand. On Ruta40, the wind is really strong!
The best period for traveling is during January and February, with temperatures around 15°C.
During this time, ferries operate and there are fewer  closed roads. Footwear and sleeves, however, are a must and a necessary protection against rain. December floods caused a section of the Carretera to be closed and I did a section (Chaithen – Raul Marin Balmaceda) by the sea with the barcaza/ferry.
Costs and transport restrictions
Normal. Chile is not one of the cheapest nations I encountered even if it costs less than Europe or North America. You usually spend €13 a night; €10 to eat in small restaurants and about €3 to drink a beer at the pub. ATMs are available in Santiago, Puerto Montt, Coyahique, Cochrane and El Chalten but credit cards and Dollars/Euros are accepted. Hospedaje do not take a credit card. The ferries / barcaza are almost always free and you do not need to book them, except for the transfer from O'Higgins to El Chalten (about €80 – to be booked). The international flights cost a lot considering the flying time. I spent about €800; if you prefer, like me, to arrive in Santiago and leave from Buenos Aires, the cost is higher. The domestic flight is about €150. The bus to Puerto Montt costs €30. With Alitalia, transporting the bikes is free if they don't weigh more than the 24kg allowed. With Aerolineas Argentina (the domestic flight), transporting the bike is free if the bike weighs less than 15kg (with tolerance to 17kg… I had to put the pedals in my pocket!). Excursions to glaciers cost €100 (depending on the glacier and type of excursion).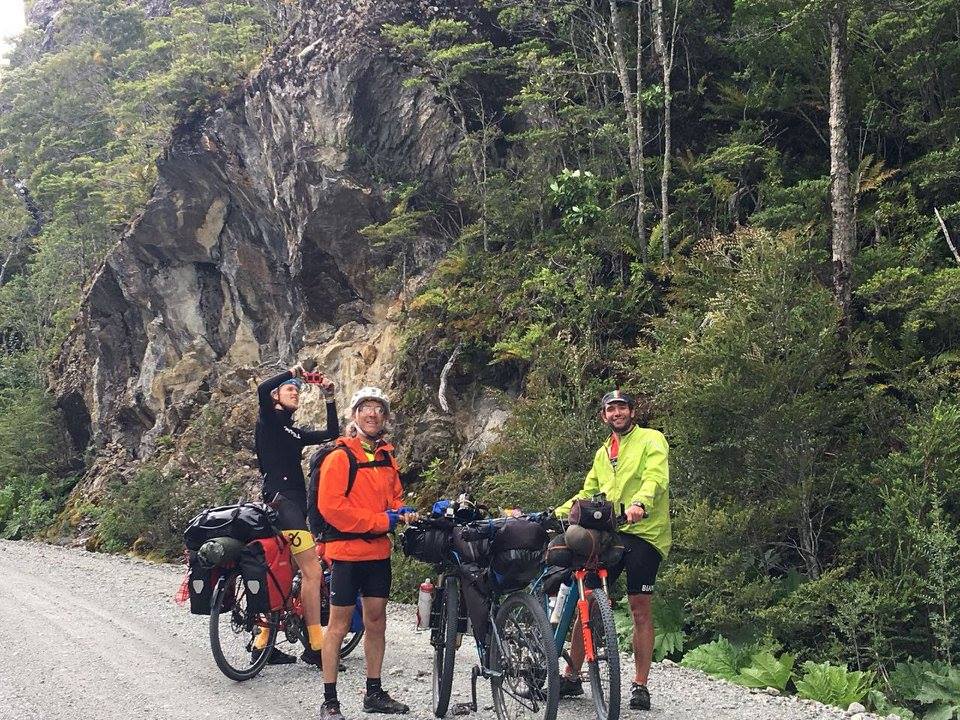 Highlights of the trip
The Carretera Austral is all a show! Between glaciers, impetuous rivers, forests and colorful mountains, every minute is good to admire the scenery. Places that deserve a visit from North to South:
Futaleufu Rafting: Reachable from Santa Lucia or along the route from Bariloche. It is certainly one of the most exciting places to raft in the world with rapids of 4th and 5th degree.
Quilt National Park and the suspended glacier of the Ventisquero Colgante: Dense vegetation with waterfalls and a nice 3km walk to the glacier front.
Cerro Castillo: Place for those who love climbing and trekking. There is a splendid lagoon to reach within a  day of hiking.
Puerto Rio Tranquillo: Superb boat trip to the lake General Carrera to Las Capillas de Marmol (half day to do with the sun) or to the Exploradores Glacier (one day).
Caleta Tortel: Original port with pedestrian passageways and houses on stilts. Also excellent as an intermediate stop on the way to Villa O'Higgins (124km away from Cochrane) or when taking the ferry to Puerto Natales.
Glacier O'Higgins: Reachable by boat before arriving at Candelario Mancilla.
El Chalten: The walk to the legendary Fitz Roy, the Cerro Torre of 22km and a day at the glacier Viedma.
Other attractions in El Calafate (Perito Moreno), Puerto Natales (Torres del Paine) or Punta Arenas (penguins).
Want to see more? 🚴
For more awesome routes in this Argentina check here. 🇦🇷
Latest posts by Hannah Jachim
(see all)