The Bikemap office in Vienna has recently become home to three colourful newcomers: Thanks to i:SY and to the whole team's delight, we can now use three brand-new e-bikes to ride through the beautiful streets of Vienna. Apart from having undertaken a few short test drives through the office, riding on bikes with a battery is a whole new experience for most of the Bikemap Team, as most of us use conventional bikes to travel through the city. Because we think that many Bikemap users might, like us, not have a lot of experience with e-bikes, I wrote a review about my first time on an e-bike, which may be of help to someone who is faced with the decision whether to buy or not to buy an e-bike.
The e-bike
🚲  Model: i:SY DrivE S8
🚲  Weight: 22,3 kg (incl. battery)
🚲  Wheels: 20″, ensuring a low centre of gravity.The adapted gear ration ensures a normal cadence like on a 28″ bike
🚲  Frame: Stiff, allowing users to sit in an upright position. The frame fits people measuring 150 to 190 cm in height
🚲  Support level: 25 km/h
🚲  Range: Up to 180km
🚲  Power: 400 Wh
🚲  Price: 2.799€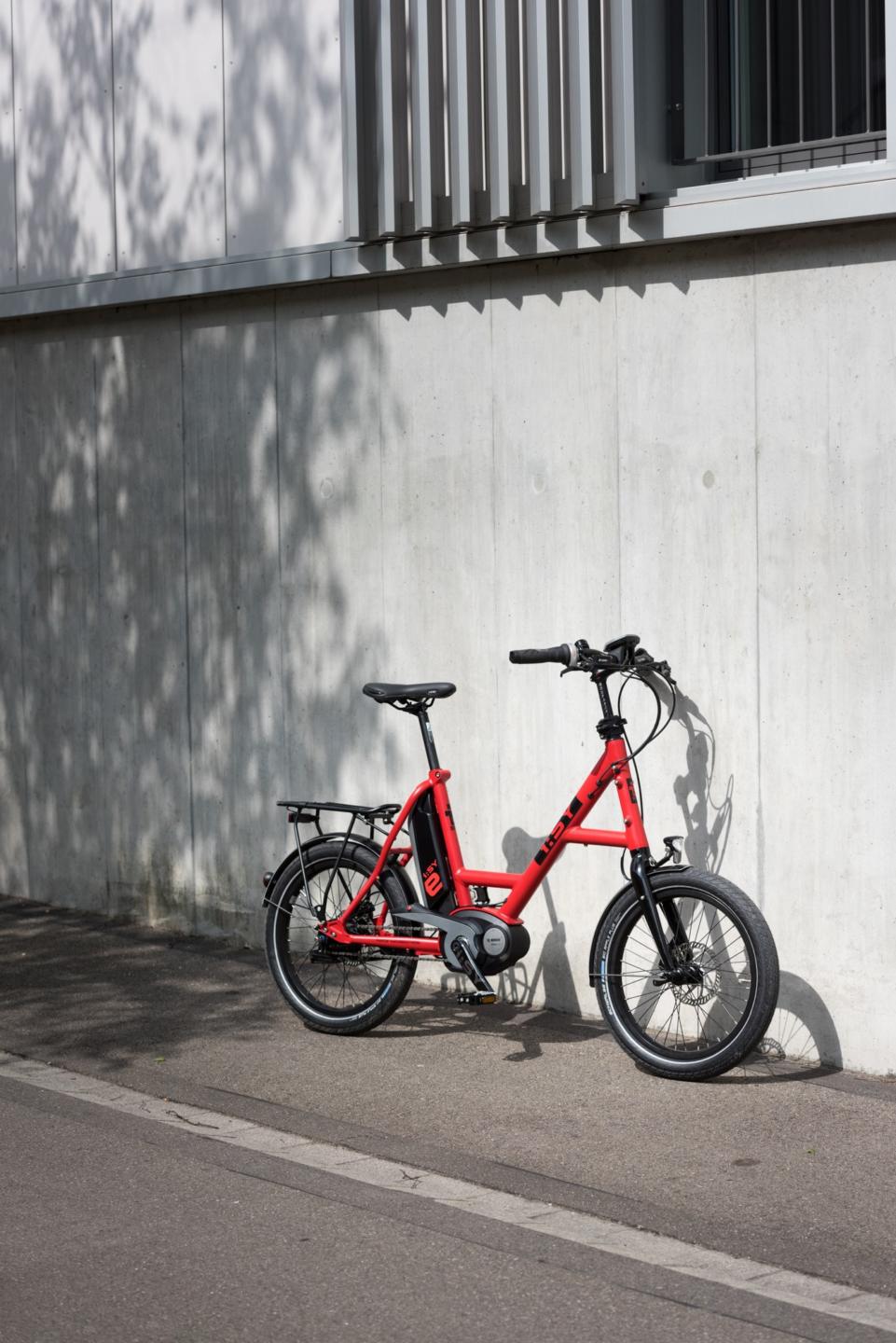 Unpacking and setting up
The e-bikes were delivered to our office. Having unpacked the bikes, we only had to find out how to correctly install the batteries and how to unfold the pedals. After this quick team challenge, the bikes were ready to go – it didn't take us long to unpack the bikes and figure everything out. Thanks to the sunny weather, the perfect opportunity to test the Bikemap app by going on a ride on one of the cool new bikes soon arose. As easy as unpacking the bikes had been, I soon noticed that an e-bike is quite a bit heavier than a conventional bicycle when I had to carry the bike down to street level from the first floor, which, considering the bike's weight of more than 22 kilograms, required a little effort.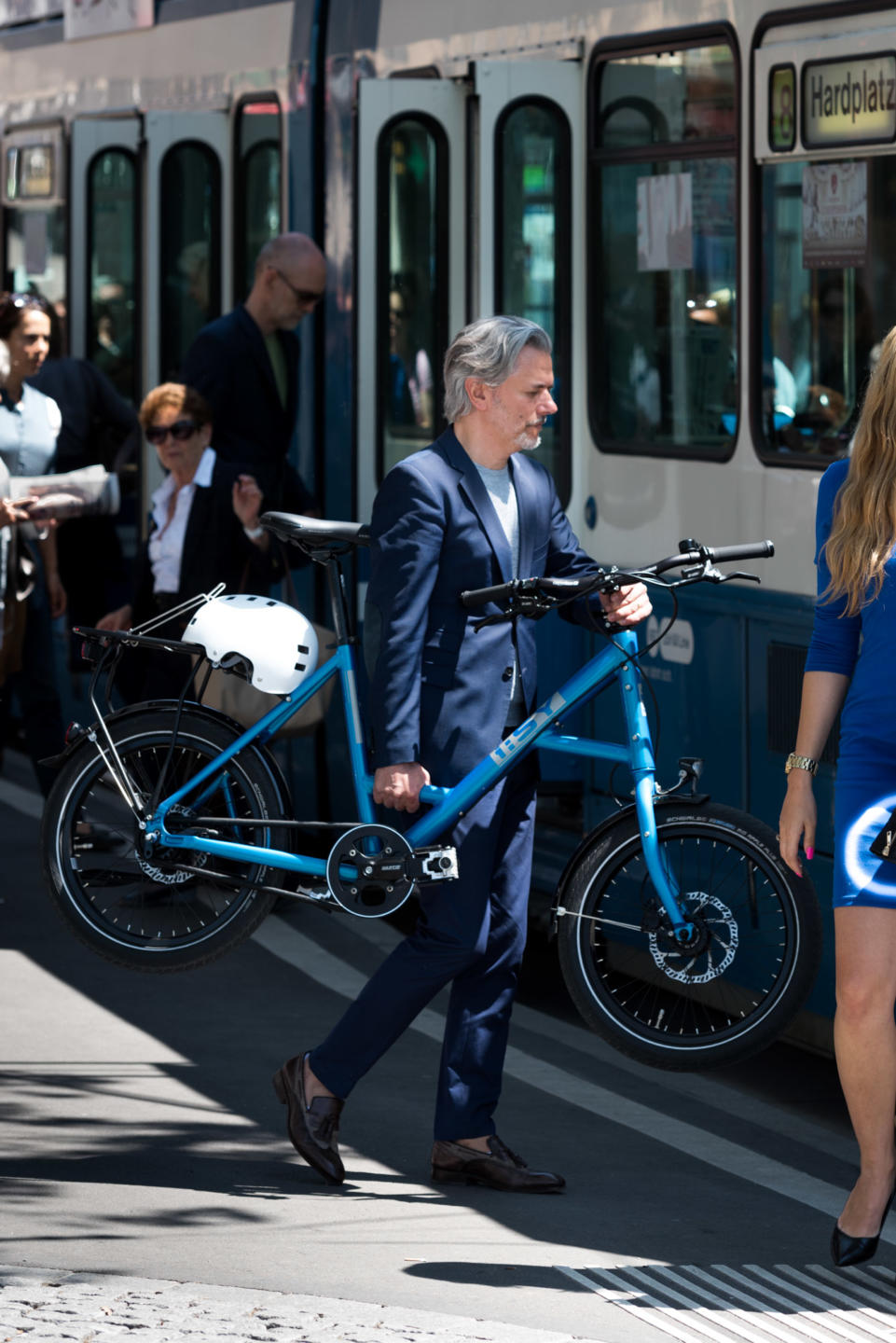 The test
Having reached the street, I was able to start cycling immediately: The electric motor switched itself on during my first pedal strokes. Using two buttons on the handlebars, I was able to switch between different drive modes. I could choose between turbo, sport, tour and eco mode, with different modes being more or less suitable depending on the terrain, my own cycling style and the amount of electric support I wanted from the bike. There's also the option of switching the electric engine off. This makes the battery last longer, however, cycling becomes noticeably more exhausting. Furthermore, a display is mounted on the handlebars which provides you with information about your chosen drive mode as well as your average speed. During my test, the electric support was remarkable on even surfaces and came in handy especially on steeper slopes – I was able to conquer every ascent without breaking a sweat on the i:SY-bike. Notably, the electric support was also useful for starting up again after waiting at a traffic light. The brakes worked sharply end efficiently which is only appropriate when moving through city traffic at the high speeds that are reached very easily with the i:SY-bike.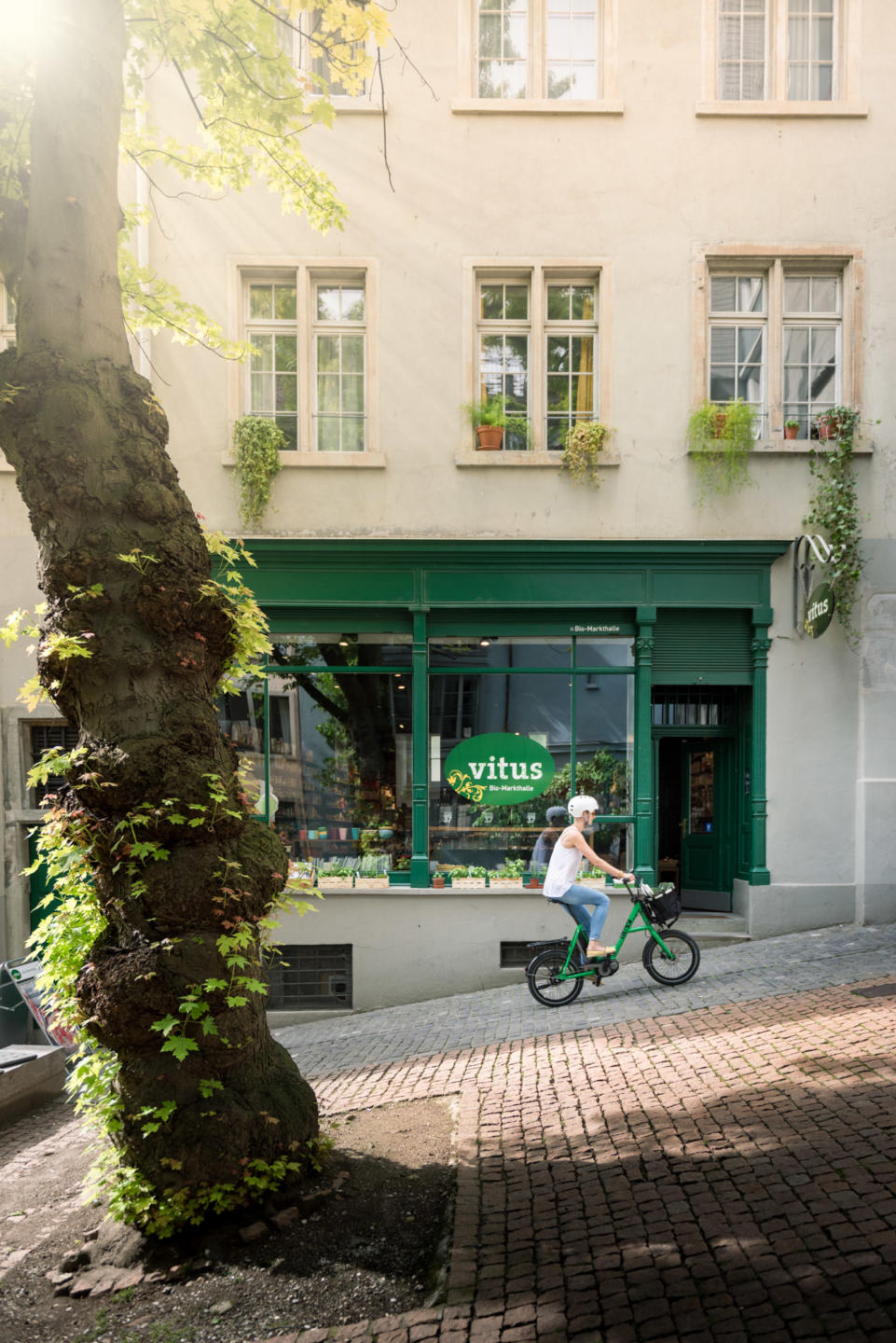 Conclusion
As we already noticed during the unpacking, the i:SY-bike is easily foldable: Just turn the handlebars by 90° so that they're parallel to the frame and fold up the pedals. Handlebars and saddle can also be lowered down to a height of 1,05m. The folded up bike can either lean against a wall or stand on its own using its foldable stand.
Naturally, an e-bike is heavier than a mountain bike, so every cyclist should decide on how much the bike would need to be carried. This furthermore poses the question of storing the e-bike, as I personally wouldn't risk parking my expensive e-bike on the street and might even think twice about storing it in my house's shared cellar space.
All in all, dashing around the city on an e-bike is incredibly fun. I was definitely motivated to ditch public transport in favour of my bike when out and about and it was very easy to get used to the sped up cycling experience the i:SY e-bike provides. However, after adapting to the e-bike's advantages, cycling on my conventional bike felt super slow and somewhat more exhausting in comparison. In the end, whether you want to invest in an e-bike is up to you – but you should definitely at least try it out!
Would you buy an e-bike? 🚲
Share your opinion with us in the comments below! 📩
Latest posts by Hannah Jachim
(see all)