If you want to keep cycling throughout Winter, it makes sense to think twice about which tires to use. Selecting the right tires rewards you with more safety and a better overall riding experience. In this post, we tell you what's to consider when choosing winter tires.
Unlike for cars, there's no winter tire requirement for bicycles, however, they'll give you a better grip on ice and snow. Especially thin road bike tires without a profile are a source of danger in slippery curves. Mountain bikes with a deeper profile provide you with a clear advantage in the cold season.
Types of tires
Mountain bike tires: These tires' rough profile gives you a good grip on snow and ice. The only disadvantage of mountain bike tires is the decreased air pressure and deeper profile, which makes cycling on asphalt more exhausting.
City bike tires: They are slimmer than mountain bike tires and have a shallower profile, but are great for cycling on wet surfaces and work well as long as the streets aren't covered in ice or snow.
Cross bike tires: If you often ride your city bike on snow or unpaved roads, making the switch to so-called cross bike tires is something you should consider. Cross bike tires are similar to mountain bike tires in regards to their profile which protects you from slipping. However, the tires are thinner and need more air pressure which makes them great for cycling on paved roads.
Road bike tires: Although this slim tire allows you to reach high speeds on paved roads, it is rather unsuitable for cycling in Winter and it's use should be limited to good weather and dry conditions due to its smooth profile.
Spikes: No matter the weather, these tires make sure that you're always safe in the saddle and provide excellent grip in snowy and icy conditions. However, spikes are unsuitable for cycling on asphalt and you mightn't be allowed to use them on every street.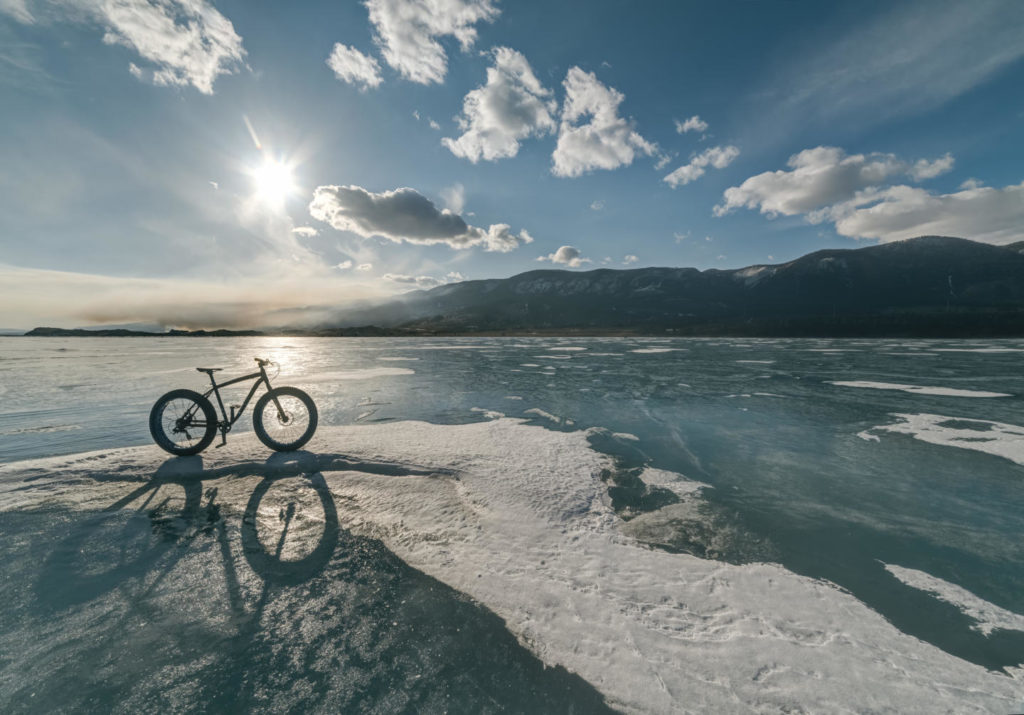 Trend – Fat tires
Tires seem to become wider and wider for all bike types these days. Fat tires definitely pose an advantage on wet surfaces and unpaved roads. Their handling isn't as sporty, but the fat tires make up for this by making your rides more comfortable and, thanks to the lower tire pressure, also considerably safer in Winter. Another advantage is the fat tires' increased puncture protection.
Tire rotation – yes or no?
If you want to buy a set of winter tires more suitable for snow, there are two options: You can either put the winter tires on your existing rims or you buy new rims especially for the winter tires.
Mounting new tires is not difficult but still requires a bit of effort. The simpler option is to buy a cheap second set of rims with winter tires which you can simply switch with your other set. The only disadvantage of this is that you also need a sprocket which you need to mount on the new rim. This means extra work and/or additional costs.
Make sure that the tires fit your bike and find out whether wider tires fit between the brakes and the fork too. As an example, not every cross bike tire is also suitable for every road bike.
Tips and conclusion
If you're cycling all year round, you should seriously consider getting winter tires with the right profile for snow and ice. If you're not all about breaking speed records every time you head out, city bike or cross bike tires might be the best fit for you. If you want to change tires, getting a second set of tires for comfortable tire rotation is a possibility as well.
When using different types of tires, pay attention to the tire pressure, which is usually noted directly on the tire.
A great winter tire is characterised by its blade profile and the right rubber mixture, making it perfect for rides in frosty temperatures and on icy roads.
Deflate your tires a little bit in winter to increase the tires' contact surface and get a better grip.
Tires must be compatible with the rims. Before buying winter tires, inquire whether the tires really fit your bike.
Which experiences have you had with winter tires? 🚲
Share them with us in the comments!
Latest posts by Hannah Jachim
(see all)
Similar articles you will like